With NATO Air Base Expansion, Russia Accuses Estonia Of 'Provocative Step'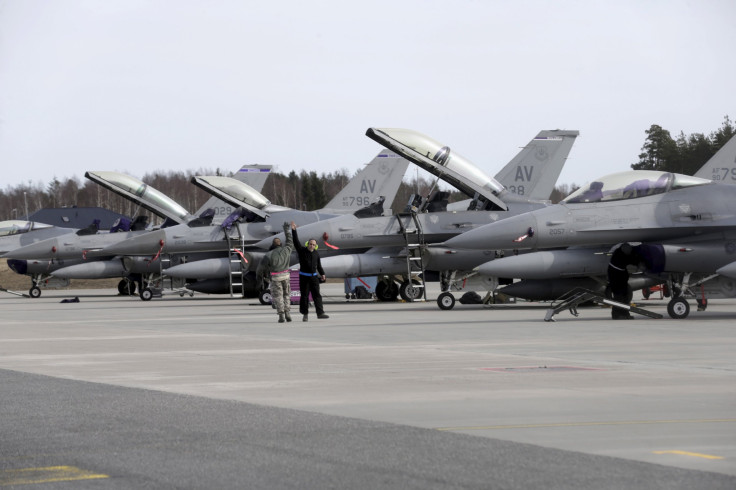 Russia called Estonia's planned expansion of its Amair air base to make room for additional NATO aircraft a "provocative step," Russian media reported Tuesday. The statement from the Russian government comes at a moment of increased tensions across Europe over Russia's aggression in Ukraine and airstrikes in Syria.
"In the light of constant speculation about the need for the military alliance [NATO] and in particular the United States to deploy extra military forces on its 'eastern flank,' we view these preparations as an openly provocative step aimed at destabilizing the situation," the Russian Foreign Ministry said in a statement.
The 28-member NATO alliance provides political and military support for member states and has based some of its aircraft at the Amari base for the Baltic region. The Russian government statement went on to accuse NATO of aiming to militarize the Baltic region.
Estonian Military Expenditure Over Time | FindTheData
Russia has long vilified NATO as an alliance that was intent on encroaching on its sphere of influence, saying any NATO enlargement would be viewed as a "provocation." NATO has not welcomed a new member state since 2009.
The accusatory statement comes the same day Russian President Vladimir Putin announced Russia would continue strengthening its own armed forces with more combat training to ensure both regional and global security. Russia's military procurement in 2015 topped $28 billion, up from $25 billion in 2014, TASS reported.
"Surprise comprehensive tests confirmed high combat readiness and growing combat capabilities of units in all military districts," Putin said, Tass reported.
Russia's annexation of Crimea in March 2014 and the ensuing conflict in Eastern Ukraine that has left 8,000 people dead has made many European and former Soviet states uneasy. Russia and Estonia have had tense relations in the past year with Estonian security officer Eston Kohver released in September after spending more than a year in Russian detention on espionage allegations. The Estonian government has held Kohver was kidnapped.
© Copyright IBTimes 2023. All rights reserved.