NATO Starts 'Rapid Trident' Exercise In Ukraine As Fighting Continues in East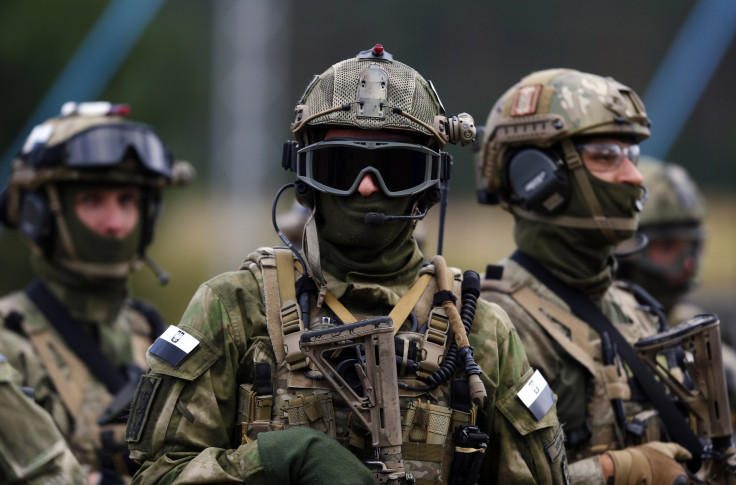 NATO and a handful of outside states have kicked off the Rapid Trident exercise in western Ukraine along the Polish border. The annual exercise's 2014 iteration is the first time U.S. troops have operated there since deadly conflict has erupted between eastern pro-Russian separatists and the European-backed Ukrainian government.
Rapid Trident consists of around 1,300 troops from 15 nations, four of which (Ukraine, Azerbaijan, Georgia and Moldova) are former Soviet states. The 11-day operation takes place near Lviv, a largely pro-Western bastion about 600 miles from the fighting near Donetsk and Luhansk Oblasts. Around 200 of those troops are American.
The exercise is "designed to promote regional stability and security, strengthen international military partnering, and foster trust while improving interoperability between NATO and partner nations," according to U.S. Army. NATO often holds such exercises to ensure that NATO militaries and non-member militaries can work together seamlessly. Ukraine has hosted Rapid Trident since 1995. Canada, Poland and Lithuania are simultaneously staging another drill called "Maple Arch" in neighboring Poland.
Ukrainian Defense Minister Valery Heletey said Sunday some NATO states had begun arming the Ukrainian military to help fight separatists in eastern Ukraine. NATO has said it will not arm non-member states, but that its members are free to arm Ukraine individually.
"I have no right to disclose any specific country we reached that agreement with," Heletey said. "But the fact is that those weapons are already on the way to us. That's absolutely true. I can officially tell you."
Rapid Trident started as clashes between Ukrainian government forces and pro-Russian rebels in eastern Ukraine killed six and injured 15. A shaky cease-fire signed in early September brokered in part by Russia has held in one of two rebel stronghold cities, Luhansk, but scattered fighting near Donetsk threatens to break the peace. The cease-fire has led to a number of prisoner exchanges.
© Copyright IBTimes 2023. All rights reserved.