NATO Coalition Against ISIS: Turkey Role Mostly Symbolic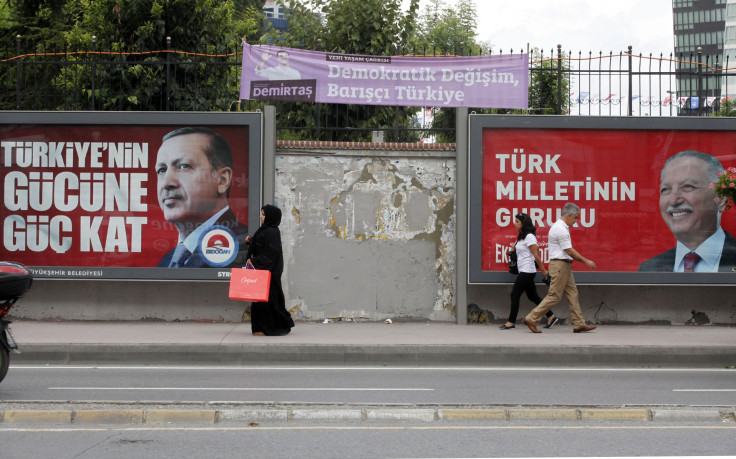 Turkey is the most crucial country in President Barack Obama's proposed NATO coalition against the Islamic State, but it's also the least willing. As the only NATO member in the region, as well as a known entry point for foreign fighters going to Syria, Turkey wields a disproportionate amount of power when it comes to fighting the Islamic State, or the militant group formerly known as ISIS. But because of Turkey's own vulnerable political situation, experts believe the Muslim country will play a mostly passive role.
Obama announced Friday that a group of 10 NATO countries will form the "core coalition" aimed at crushing ISIS. Apart from Turkey and the U.S., the group will include Britain, Australia, Canada, Denmark, France, Germany, Italy and Poland. Obama said he received "no pushback" from the countries, but experts said Turkey is not expected to take a military or economic role. Fighting the Islamic State would mean jeopardizing Turkey's own foreign policy, endangering Turkish nationals and helping the Syrian President Bashar al-Assad, who Turkey has strongly condemned.
"They are going to be concerned about managing their border, caring for the refugees and not strengthening Assad in Syria," said Kori Schake, a research fellow at the Hoover Institution. "They are less concerned about ISIS [Islamic State} then they are about Assad's government in Syria."
In 2009, former Turkish Foreign Minister Ahmet Davutoglu adopted a foreign policy he called "zero problems with neighbors," hoping to expand trade, lift visa controls and bridge gaps between neighboring Arab states. Davutoglu was recently elected Prime Minister of Turkey, which could prove a problem for the NATO coalition if Turkey refuses to get involved in neighboring conflicts to avoid potential retaliation from strategically located enemies. Syria and Turkey share a border.
Davutoglu's "reflexes are not to take an assertive and confrontational stance," Schake said. What's more, "as a consequence of its democratization in the last ten years, [the Turkish government] has a very difficult relationship with its military."
The Turkish Armed Forces represent NATO's second-largest militarized, but likely won't play a role in taking out ISIS after a complicated military history ridden with corruption and scandal, from plotted military coups to sex rings that used military "secrets" as currency. As the country began to elect increasingly democratic officials in recent years, a military crackdown ensued. Allowing the military to go after ISIS would put it in an elevated position, something the Turkish government wants to avoid, Schake said.
Turkey's porous 565-mile border with Syria has become a revolving door in recent years for most foreign fighters, journalists and some of Turkey's more than 800,000 Syrian refugees. Turkey has long been accused of ignoring this jihadi route, mainly because fighters joining the rebels were fighting a Turkish enemy: The Syrian regime. However, as the fear of ISIS foreign fighters returning home increased, so did pressure on Turkey from NATO countries to patch up the border holes. So far, it has a no-entry list of 6,000 people who are known foreign fighters, Turkish officials told Hurriyet Daily.
"The threat is very serious," a Turkish foreign-ministry official said. "Countries are worried about a couple of hundred people returning, but we have all of them accumulating here. This is why we are ringing alarm bells."
When ISIS took Turkish photojournalist Bunyamin Aygun hostage in 2013, he said the militants repeatedly told him "Turkey is next." After the first few weeks of his detainment, he was transferred to an ISIS brigade made up of mostly Turks. "They rained curses on Erdogan, and Davutoglu, saying they were 'infidels,'" Aygun told al-Monitor. "They claimed that if Turkey sealed the border gates that were under IS control they would hit one Turkish village after the other and trigger a civil war inside Turkey."
ISIS is currently holding around 46 Turkish citizens hostage, according to the Hurriyet Daily News, including diplomats from Turkey's former consulate in Mosul, Iraq, which is now under ISIS control. Actively fighting ISIS could further endanger the hostages.
"Turkey has a stake here," Pentagon Press Secretary Rear Adm. Kirby told reporters Tuesday when addressing a question on whether or not the country would be a reliable ally against ISIS. "We understand that. It's an important partner in the region, a NATO ally. The Turkish government has concerns about foreign fighters, and right they should."
So far, Turkey hasn't taken any significant steps to show it fully endorses the NATO coalition, and few expect that to change. "As always, they will be undecided whether they want the major Western powers in "our Muslim backyard" or not," Burak Bekdil wrote in Hurriyet Daily. "It just depends on what the problem in our Muslim backyard is, who the enemy is and whether we need the Western powers' services to defeat the enemy."
© Copyright IBTimes 2023. All rights reserved.