Navalny's Allies Plan 'Large Rallies' In Russia Following His Arrest
KEY POINTS
Kremlin critic Navalny will be detained for 30 days
Navalny's supporters will organize nationwide protests on Jan. 23
A Moscow court will rule whether to convert Navalny's 3.5 -year probation to a prison sentence
A Russian judge on Monday ordered officers to detain opposition leader Alexei Navalny for 30 days, prompting his allies to plan "large rallies" to protest his arrest.
Navalny on Sunday had just returned to Russia from Germany, where he had recovered after being poisoned with a nerve agent when he was arrested at a Moscow airport. Navalny has blamed President Vladimir Putin for the poisoning.
On Monday afternoon, Russian officials hastily set up a makeshift courtroom at the police precinct in Khimki, where the Kremlin critic was detained. A video posted by one of Navalny's aides revealed that the opposition leader was denied his lawyers until moments before the hearing began.
Vadim Kobzev, one of Navalny's lawyers, said he was only notified of the hearing minutes before it began.
"What's happening here is impossible," Navalny said in the video posted on Twitter. "This is the highest degree of lawlessness — I can't call it anything else."
A crowd of supporters had gathered outside the police precinct where Navalny is detained, shouting "Shame!"as the judge announced the ruling. Russian officials reportedly arrested 13 of the protesters. At least 55 demonstrators were also detained in St. Petersburg.
A judge later ruled that Navalny should remain in police custody for 30 days for violating a 3.5 year prison sentence he received in 2014. The European Court of Human Rights had previously ruled that Russia did not conduct a fair trial in 2014.
Olga Mikhailova, another lawyer for the opposition leader, said Navalny's legal team would file a formal complaint about the judge's decision.
Navalny posted a three-minute video address on YouTube in which he called on his supporters to hold protests following the judge's decision.
"Do not be afraid. Take to the streets. Don't do it for me, do it for yourselves and for your future," Navalny said in his video address.
Leonid Volkov, one of Navalny's top aides, said he and his supporters are organizing nationwide protests on Jan. 23.
Navalny's arrest had already prompted a wave of criticism from U.S. and European officials, adding to existing tensions between Russia and the West.
A Moscow court is scheduled to rule next month on whether the Kremlin critic's 3.5-year probation would be converted to a prison sentence. If the court approves the petition to convert the sentence, Navalny would remain behind bars until July 2024.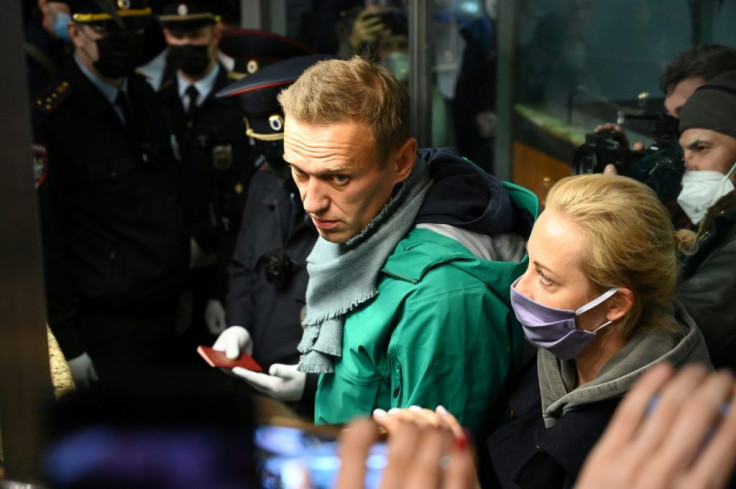 © Copyright IBTimes 2023. All rights reserved.