NBA: Brooklyn Nets Duo Not Hated By Former Teammates
Kevin Durant and Kyrie Irving left the Golden State Warriors and Boston Celtics respectively to join the Brooklyn Nets in free agency. They left behind contrasting legacies back in their respective teams but they also had falling outs with teammates while with their previous employers.
The Warriors small forward joined them in controversial fashion from Oklahoma City Thunder in 2016 and went on to make three straight NBA Finals and claim two championships and two NBA Finals MVP accolades. The franchise will retire his no.35 jersey and he overall has a great relationship with his former franchise, the front office and players included.
However, his stay with the Warriors was not devoid of incidents and in November 2018, Durant had an on-court spat with Draymond Green, who has been with the franchise since being drafted in 2012 and has won three titles. The latter questioned Durant's commitment to the team and made him aware that they were also winning titles before his arrival.
Green was suspended for one game for his actions and many claimed that it was when Durant decided he will look for pastures new when he entered free agency earlier this year. Yahoo Sports' Chris Haynes even claimed that he stopped speaking to his teammates for a short while after the incident but the Warriors power forward has now revealed that there remains no bad blood between Durant and him despite his decision to leave the Warriors and join the Nets.
"Absolutely. I actually talked to K yesterday. You know, Kevin is my brother. He came to Golden State for three seasons. We won two championships … if someone would've told me, man, Kevin Durant's gonna come to the Warriors and you guys are gonna win two championships and then have a shot at winning a third, would you take that? In a heartbeat. And so that was a major success. That's my brother, and I'm happy for him," Green told ESPN in a recent interview, as quoted on Nets Daily.
"Because, you know, not many times in life do you get to do what you wanna do. He's worked his ass off and had the opportunity to do what he wanted to do. And he did exactly that. And someone who puts the amount of effort that that guy puts into the game of basketball, he deserves to do exactly that," he added.
Irving, on the other hand, spent two seasons with the Celtics but it did not pan out how the franchise, the players and many in the NBA expected. He was expected to lead a young talented team from the Eastern Conference to the NBA Finals but they only managed a fifth place finish in the East and were then dumped out of the playoffs in the second round.
The point guard had committed to re-signing with Celtics last October when he entered free agency but after a difficult season, he decided it was time to move on and teamed up with Durant in Brooklyn. Danny Ainge, the Celtics general manager, had only good things to say about the 6-time All-Star but it was widely reported that the atmosphere within the team was not a happy one.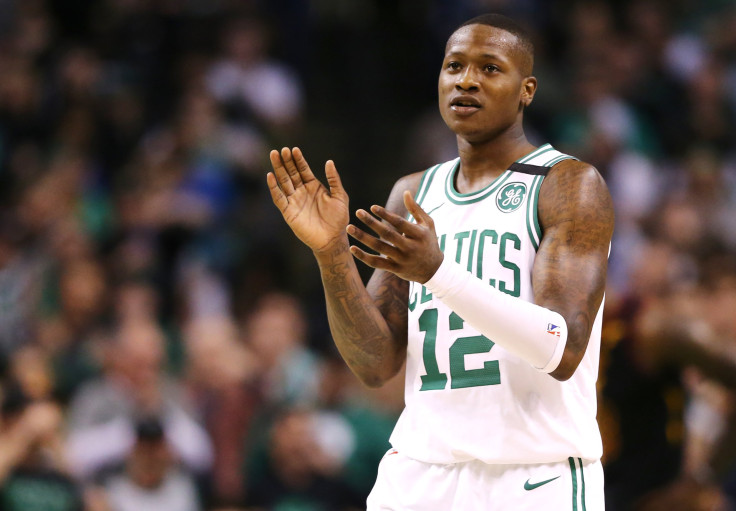 Terry Rozier, who played as the backup point guard to Irving, came out and criticized the point guard during an interview on ESPN, and made it clear that he wants to leave if Irving is re-signed with Boston. But both players will wear different this season after Rozier was traded to Charlotte Hornets as part of the deal that brought Kemba Walker to Boston.
The young backup point guard, however, has changed his tune and now said he never had a problem with Irving. Rozier admitted that he is a fan of Irving, who is widely considered the best ball handler in the NBA at the moment.
"I'm going to sit right here and have the best seat in the house, and I'm going to watch him do his thing," Rozier said. "And I was a fan like that. But, of course, I still wanted the Celtics to win. But that's just me loving the game. And it was just like, Oh let me see what I could take from his game and see the type of person, see how wired he is."
"A lot of people don't know how great of a person he is. A lot of people think I hate Kyrie. And a lot of people think that me and Kyrie not cool, but we text, and I text him right before free agency. I sent him the eyes, and he sent the eyes right back, basically like you know what it's going to be."
© Copyright IBTimes 2023. All rights reserved.