NBA Mock Draft 2012: Lottery Picks and Preview for the June 28 Draft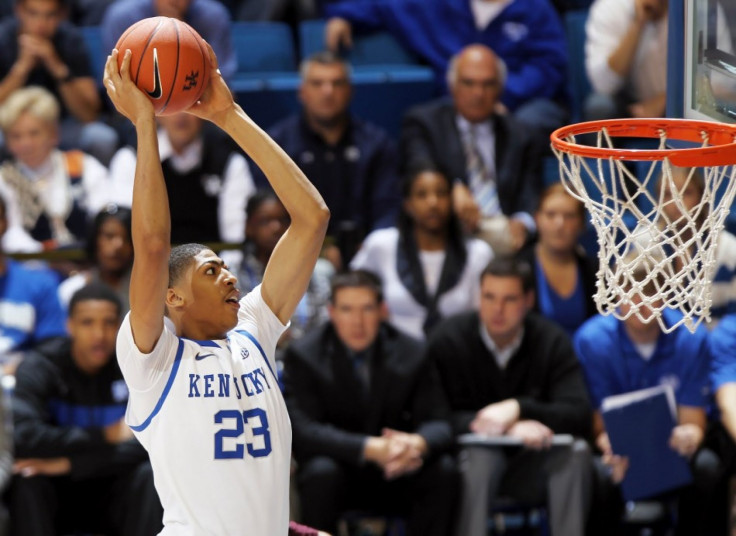 The NBA Finals are only three games in, but the 2012 NBA Draft is just nine days away.
The Hornets have the first pick of the after winning the Lottery. Anthony Davis is the consensus number one selection, but nothing is set in stone for the rest of the draft.
Here's a first round mock draft for the players expected to be lottery picks on June 28 at the Prudential Center in New Jersey.
1. New Orleans Hornets- Anthony Davis, Kentucky, PF, 6'10, Freshman
Davis is the consensus top overall pick for many reasons. He's an athletic defender, he has good shooting form, and most importantly, he has shown a strong interest in improving his game. Davis may not develop into a superstar in the NBA like Dwight Howard, but he should be a major impact player after his rookie season.
2. Charlotte Bobcats- Michael Kidd-Gilchrist, Kentucky, F, 6'7, Freshman
An effective starter for Kentucky, Kidd-Gilchrist proved to play bigger than his size, averaging 11.8 points and 7.6 rebounds per game. Although his offense needs to improve, he can be an effective force in the paint immediately, and will allow his team to play better in the transition game.
3. Washington Wizards- Bradley Beal, Florida, G, 6'3, Freshman
Regarded as the best shooter long-range shooter in the draft, Beal has constantly been compared to Ray Allen for his style and accuracy, and should ultimately become an effective shooter in the NBA. Averaging nearly a double-double during his season at Florida, Beal was named to the All-SEC First team and won All-SEC Freshman honors. Beal has the ability to play both shooting and point guard, and will provide an offensive edge early in his career.
4. Cleveland Cavaliers- Thomas Robinson, Kansas, F, 6'10, Junior
Arguably the best defensive-minded player available, Robinson is extremely athletic for his size, and is praised for his physical play. Robinson's length makes him a tough defender for any opponent in the paint, and will immediately help any team's defense. He needs to improve his basketball IQ and make better decisions in the paint.
5. Sacramento Kings- Harrison Barnes, North Carolina, SF,6'8, Sophomore
A versatile shooter, Barnes can score from anywhere on the court, and is best from mid-range. However, Barnes lacks the explosiveness needed to play effectively on defense in the NBA. Barnes will provide some relief for the Kings, but don't expect him to stand out until his second year.
6. Portland Trail Blazers- Andre Drummond, UCONN,C, 7'0, Freshman
Averaging 10.2 points per game at Connecticut, Drummond is the most NBA-ready center available in this year's draft. His size and power will benefit him, and will allow him to flourish in the paint. Although he still needs to learn a lot about his position, his transition to the NBA should not be that difficult. He needs to stay clear of getting into foul trouble, and use his size to his benefit.
7. Golden State Warriors- Dion Waiters, Syracuse, SG, 6'4, Sophomore
Playing with confidence and skill, Waiters can easily score more than 20 points per game. His only concern in the NBA will be his size, and how he is able to set up drives during fast-break opportunities. He's a good ball-handler, and can be very tough to defend due to his quickness and agility.
8. Toronto Raptors- Damian Lillard, Weber State, PG, 6'3, Junior
Having a very high basketball IQ, Lillard can play in any circumstance, and can provide immediate offense in the NBA. He is effective from long-range, and can set up plays in the half-court quickly. Lillard will need to work on his overall court vision to become exceptional in the NBA.
9. Detroit Pistons- Jeremy Lamb, UCONN, SG, 6'5, Sophomore
With long arms and good athleticism, Lamb is an excellent all-around shooter that can easily average 15 points per game. However, Lamb will need to put on some size in order to drive the lane effectively in the NBA. His mid-range scoring is not an issue, but the lack of offense in the paint could affect his game.
10. New Orleans Hornets- Meyers Leonard, Illionis, C, 7'1, Sophomore
Leonard averaged 13.2 points and eight rebounds per game in college by using his incredible size and long arms. He runs the floor well, and plays the game with a small frame. However, Leonard needs to improve his overall strength in order to be effective defensively at the next level. Although he has proved to be a good shot-blocker, he needs to gain the strength to hold his ground against defenders.
11. Portland Trail Blazers- Terrence Ross, Washington, PG, 6'7, Sophomore
Using Very good court vision and his size to his advantage, Ross can dunk in traffic and score easily from mid or long-range. Ross will need to add weight to his frame, and learn how to follow up on his missed shots. Although he has the speed, he has not yet used his quickness to his advantage. He's NBA-ready and will be a solid selection.
12. Milwaukee Bucks- Austin Rivers, Duke, SG, 6'5, Freshman
The son of Boston Celtics coach Doc Rivers, the Duke standout shoots well under pressure, and has proven to be effective well beyond the NBA three-point line. Rivers has smooth ball-handling skills, but can be side-dominant at times. He will have to become a universal shooter from both sides of the court in order to succeed at the next level.
13. Phoenix Suns- Terrence Jones, Kentucky, SF, 6'9, Sophomore
Jones is NBA-ready with great athleticism with not many intangibles. He can provide defense in traffic with many blocks and rebounds. Explosive in the paint, Jones can easily score in double-digits off of missed shots and finishes. Due to his size, Jones needs to work on his mid-range game, and be more versatile on the court.
14. Houston Rockets- Jared Sullinger, Ohio State, PF, 6'9, Sophomore
Sullinger plays smart basketball, recognizes opportunities, and is good at finding the open man. He uses his body to get open looks against his opponents, and proves that big men can shoot beyond the arc. He is not a higher pick because he does not provide the athleticism of an elite player. He can be shut down, and will need to learn how to create more elbow space to freely shoot the ball effectively.
© Copyright IBTimes 2023. All rights reserved.
FOLLOW MORE IBT NEWS ON THE BELOW CHANNELS