NBA News: Lakers Biggest Free Agency Acquisition Aiming For More Than Titles In LA
KEY POINTS
Westbrook feels prefers to focus on creating an impact on communities
The only notable missing piece in Westbrook's resume is an NBA title
Vogel needs to manage minutes wisely to make sure the Lakers last the full season
The Los Angeles Lakers formally introduced Russell Westbrook in an official press conference, and the questions thrown at the 32-year-old were hardly surprising.
The obvious thing that anyone would first ask is about Westbrook wanting to win an NBA title.
It is one of the glaring things missing from his basketball resume. He is a nine-time All-Star and has won the NBA MVP trophy in 2017 already. Hence, that appears to be a no-brainer.
But aside from that, Westbrook revealed a different but mature kind of response to the media present during the press conference.
When asked if he had anything to prove by Bill Plaschke of the Los Angeles Times, the native of California responded by saying he no.
"I've been blessed and thankful to be able to be in this league so long and lucky to be able to play and be healthy. When I got drafted in the NBA, that was me proving people wrong. When I was able to go to college … go to UCLA from the inner city, that was me proving people wrong. Just making it out of the hood was proving people wrong. I don't need to do that anymore," Westbrook stated
Instead, Westbrook pointed out how to make a difference in the people around him. That ultimate goal for the fourth overall pick of the 2008 NBA Draft is to create an impact on the community and those around him.
"I've been able to bless the people around me, my family. Been able to impact people all across the world with this platform that's been given to me. I'll continue to do that. Obviously, I want to win a championship, but the ultimate goal is to make sure we use what we have to impact those around you," he stated.
Looking at what he has accomplished so far, there is no question that Westbrook has achieved a lot except for the NBA ring.
His comments are mature, but deep inside, there is no question that there is that kindling desire for him to win that first NBA title. That dream is undoubtedly within reach.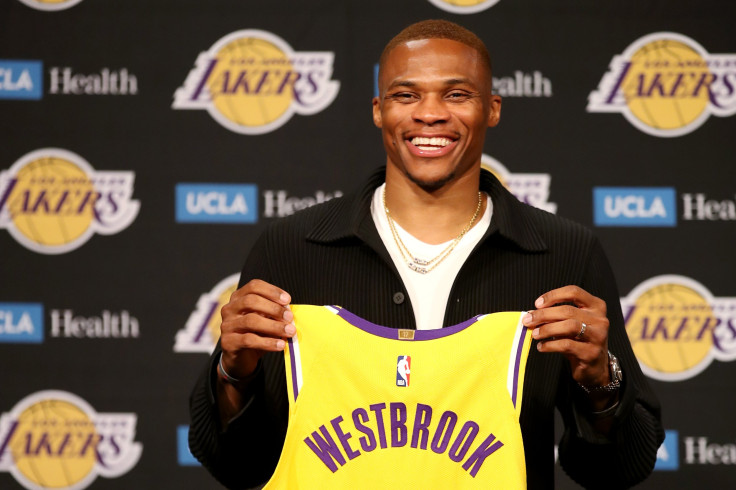 With a formidable team on paper, the big issue for the franchise is health. Most of the players are seasoned but over 30, raising questions on whether the Lakers can go the full route.
Unless freak injuries bring down key players one by one, Los Angeles may have a good chance.
All this still depends on how head coach Frank Vogel can manage the playing time of his stars.
The talent is there, but not all may be ready to play heavy minutes in a grinding 2021-22 season.
© Copyright IBTimes 2023. All rights reserved.