NBA News: Lakers Top Stars Ready For First Play-In Tourney Against Warriors
KEY POINTS
LeBron James and Anthony Davis are expected to suit up in the Lakers' first play-in game
Dennis Schroder admits not being at 100% yet
James' injured ankle remains a concern for the Lakers
The Los Angeles Lakers know that they can no longer take risks, with the play-in tournament set to start on Wednesday.
Facing the Golden State Warriors, the Lakers need to go for broke, aware that a win is needed if they seek to keep their bid to go back-to-back this season.
Head coach Frank Vogel assured LeBron James will be playing when he spoke to reporters recently.
In that interview, the Lakers mentor revealed that despite a minor ankle injury, the four-time NBA champion was able to participate fully in practice.
"He had some minor soreness, but he's good to go," Vogel stated. "He was a full participant in practice today and is good to go."
James rolled his ankle in their last regular-season outing against the New Orleans Pelicans.
Knowing that James is not in 100% condition, Lakers fans held their breath seeing their star player sprawled to the floor.
However, it turns out that it was something most should not worry about as James told the media that he does not see himself on the sidelines from here on.
The same holds for Davis, someone who has struggled with injuries this season for the Lakers.
Davis was initially listed as questionable on Sunday due to left adductor strain tightness. It appears the All-Star center is ready to go against the Dubs on Wednesday.
"I'm fine," Davis said. "The adductor feels good, the shoulder feels good."
With James and Davis all geared up for the play-in tourney, the only player in question is Dennis Schroder.
The German guard claimed he is not at 100% but vowed to work his way back into shape.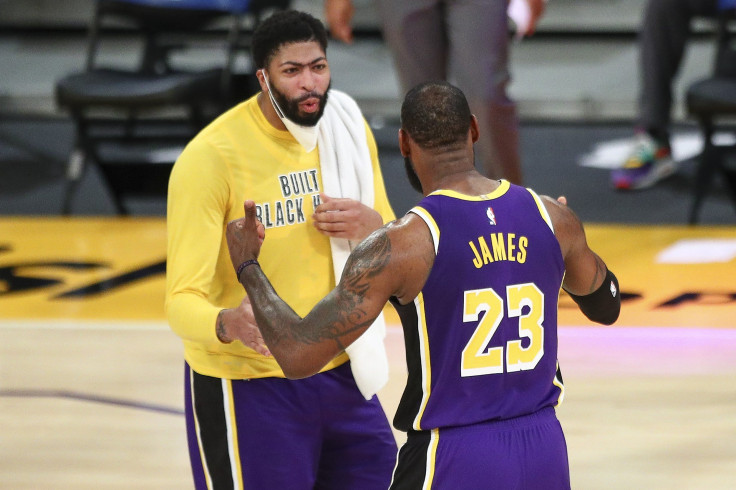 "At the end of the day, I'm going to work my way into it, but it's not going to hurt my teammates. I'm going to give everything I have, go out there and do the same things that I do during the season, and truly to get a W," Schroder stressed.
The Lakers cannot take the Warriors lightly with Stephen Curry sporting his excellent guile so far this year.
However, the two-time NBA MVP needs to get proper support from guys like Andrew Wiggins and Draymond Green.
Meanwhile, rookie James Wiseman and Kelly Oubre Jr. are out and will be unavailable in the play-in tournament.
© Copyright IBTimes 2023. All rights reserved.