NBA Rumors: Markelle Fultz On The Trade Block? Report Claims Sixers Star Has Talked Of 'Fresh Start'
Markelle Fultz is only in his second professional season yet his status with the Philadelphia 76ers is among the more puzzling stories of the NBA season.
The Athletic on Wednesday reported that the Sixers guard has been battling a right wrist injury as well as right shoulder problems. In the report, sources claimed that Fultz "prefers a fresh start with another NBA team."
However, Fultz's agent quickly squashed any thoughts of a trade and said that there have been no talks with Sixers general manager Elton Brand about leaving the team.
"I have given no indication to Elton Brand or anyone else that Markelle would prefer to be traded," agent Raymond Brothers told ESPN's Adrian Wojnarowski. "My focus is to get Markelle healthy. End of the story."
The 20-year-old played just seven minutes against the Phoenix Suns on Monday. On Wednesday, he was on the bench in street clothes.
Fultz will see a specialist in New York to look at his right shoulder and will remain inactive.
The Sixers' front office has been in talks with Brothers about potential next steps, according to ESPN. Head coach Brett Brown said he would not comment on Fultz's status.
It is rare for a player to request a trade so soon in their career. Fultz, who was the No. 1 overall pick in 2017, is earning $8.34 million this season and will receive $9.75 million in 2019-2020.
Fultz's value has been somewhat unclear for quite some time. He has only played in 33 total games and has a shooting percentage of 41.4 percent.
In training camp, Fultz expressed confidence about his role in the 2018-19 season despite reports that he suffered from "yips" in his shooting.
"To be able to know that I prepared very well for this season, I can't wait to get it started," Fultz said. "So every day I have been coming here, I've been happy."
Fultz has posted respectable numbers this season, with averages of 8.2 points, 3.7 rebounds and 3.1 assists.
The Sixers, among the top teams in the East, recently traded away Robert Covington and Dario Saric to land star swingman Jimmy Butler.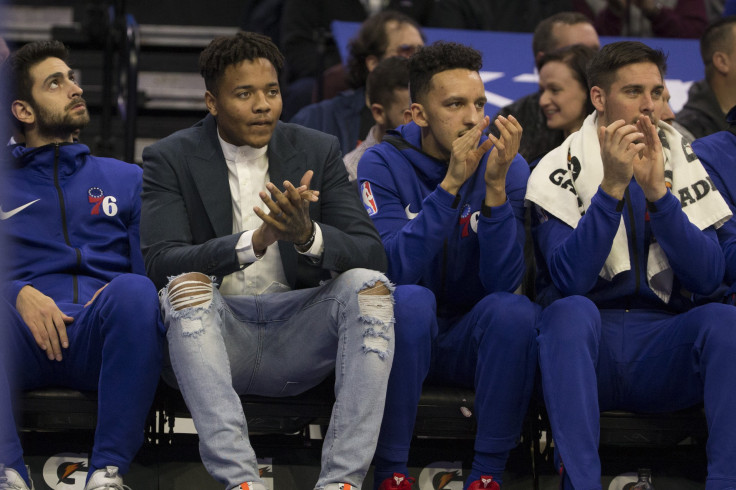 © Copyright IBTimes 2023. All rights reserved.