NBA Trade Rumors: Knicks Keeping French Guard Tony Parker Once Eyed For Basketball Team
The New York Knicks previously teased that they could unload some of their players, but it seems that the list excludes Frank Ntilikina, a French player who has stepped up his game after sitting out three games due to subpar play.
Apparently, the three-game penance seemed to have paid off for the Knicks with the 20-year-old guard rising to the occasion. Although the Knicks lost to the Charlotte Hornets, 119-107, Ntilikina was a sight to behold. He finished with a career-high 18 points through a combination of three-point bombs and drives to the basket, New York Post reported.
Prior to that performance, head coach David Fizdale mentioned that the team could move forward with so many young players in the roster. The name of the 20-year-old 2017 lottery pick was not mentioned, but this did not stop some teams from inquiring about his real status.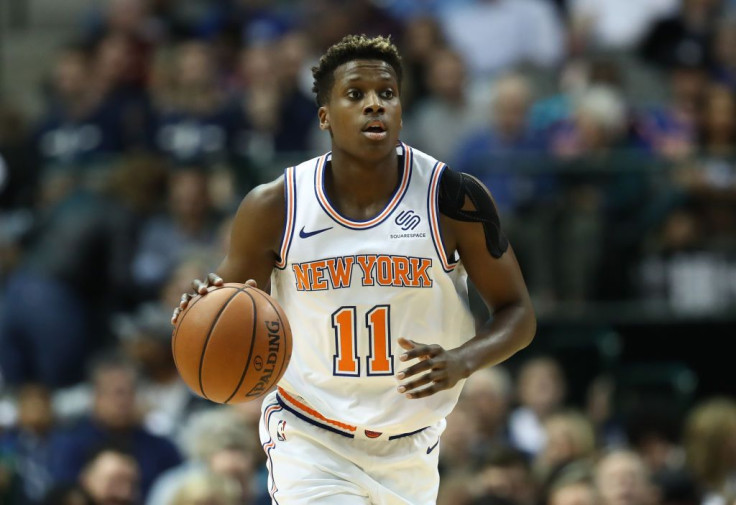 According to Fox Sports, there were at least five teams that showed interest in the player whom Tony Parker once tried to recruit for his French ballclub. The French player holds averages of 6.4 points and 2.6 assists in 27 minutes of play so far this season, and his recent play could help bring up those numbers.
And while he has shown that he can play with the big boys, one department that Ntilikina could work on is his three-point shooting. He is hitting just 29.5 percent of his three-point attempts and his jump shot has been suspect.
With one player off the table, there are a number of Knicks players who are expected to become free agents by 2019. The list includes the likes of Ron Baker, Luke Kornet, Lance Thomas, Noah Vonleh, Trey Burke, Emmanuel Mudiay, Mario Hezonja, Enes Kanter and Kristaps Porzingis.
From the list, Porzingis is the most notable name and someone multiple teams are likely to go after. However, the Latvian seems to be fine in New York – meaning it would take a lot to convince him to leave the Knicks. In any case, he is expected to resign as a restricted free agent and remain, the Daily Knicks reported.
One player who is likely to leave though is Enes Kanter. Known for his double-double production, the Turkish center is likely to test free agency. He is one of the blue-collar workers likely to sign with a new team unless the Knicks are able to dangle something irresistible.
© Copyright IBTimes 2023. All rights reserved.