Nepal Aid Workers Call For Helicopter Help Amid Tremors, Landslides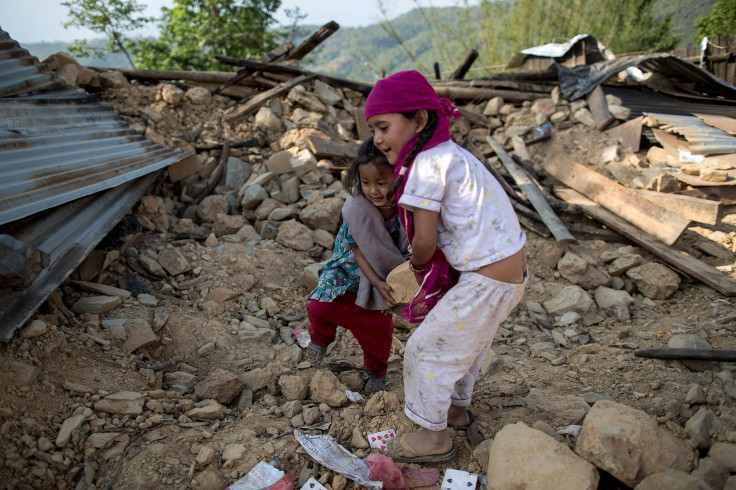 A week after a magnitude-7.8 earthquake killed more than 7,000 people in Nepal, aid has yet to arrive in the most difficult-to-reach areas of the mountainous country. International aid workers say more helicopters are needed because frequent landslides have made navigating the Himalayan mountainsides too treacherous for trucks in many cases.
"We definitely need more helicopters," Ertharin Cousin, the executive director of the United Nations' World Food Program, told the Associated Press in Nepal Saturday. "Even seven days in, this is still very much considered the early days, because there are people we still haven't reached. So we need helicopters to reach them."
The U.N. humanitarian office reported more than 130,000 homes were destroyed as a result of the massive quake, which has been followed by many aftershocks throughout the country between India and Tibet. Nepal's National Emergency Operation Center reported Saturday the death toll had climbed again to 7,040 people. Another 14,398 have been injured, and many have lost their homes. The U.N. estimated the disaster has affected 8.1 million people in one way or another.
Cousin told the AP shelter is the most urgent need -- even more so than food -- as monsoon season is rapidly approaching. "This is one of the poorest places on Earth," she said. "If the global community walks away, the people of this country will not receive the assistance that is required for them to rebuild their lives."
Families sleeping outside frequently have little more than plastic sheets to protect themselves from the elements. Reports of diarrhea and pneumonia are becoming more frequent, and the asbestos within many Nepalese homes is openly exposed, according to the aid agency Save the Children.
"In the most remote mountainous region, only reachable currently by helicopter, children and babies are sleeping outdoors without any protection from the cold, nighttime temperatures," the group said in a statement Friday. "In more-accessible areas, tarps, blankets and baby kits have been distributed in temporary displacement camps, but children remain vulnerable to disease from the cold and unsanitary conditions they are living in."
© Copyright IBTimes 2023. All rights reserved.