Nepal Earthquake 2015: Death Toll Surpasses 4,000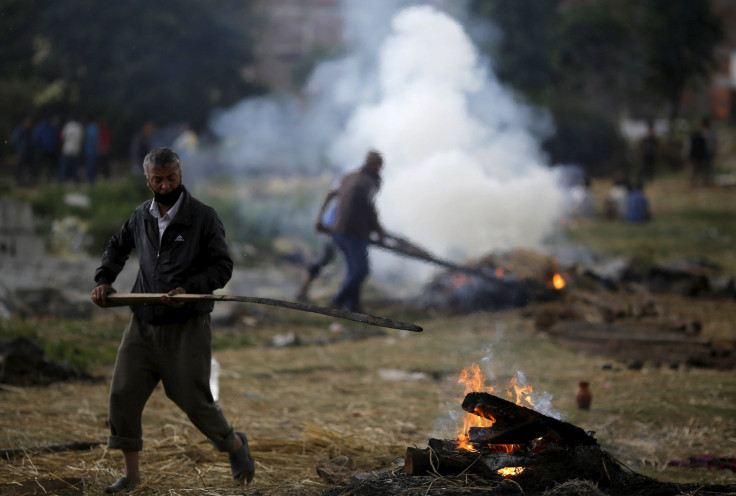 Updated as of 12:13 p.m. EDT: Another aftershock hit shortly before 10 p.m. local time, according to a series of tweets from International Business Times reporter Brianna Lee, who is on location in Nepal.
Original story: The death toll from Saturday's earthquake in Nepal is now more than 4,000, a number that is likely to climb because mountainous villages have been difficult to reach, the Associated Press reported Monday. The 7.8-magnitude quake was the largest in Nepal in nearly 80 years.
Meanwhile, traffic jams leading to the epicenter of the quake, in Nepal's Gorkha district, are making it hard for rescue workers to bring food and supplies to victims, the AP reported. A narrow, two-lane road winds from Kathmandu to Gorkha. "This traffic jam, it is nothing new," Uma Shankar Prasad, a 32-year-old Indian construction worker in Nepal, told the AP. "Traffic jams happen all the time. I'll wait as long as it takes."
Thousands of people fled Kathmandu Monday, contributing to the traffic jam. "We are escaping," Krishna Muktari, who runs a grocery store in the capital, told Reuters.
The quake led to an avalanche on Mount Everest that killed at least 17 people, and multiple aftershocks, including a 5.1-magnitude earthquake that hit on the border of Nepal and India. The 7.8-magnitude quake also caused deaths in neighboring countries, including India and China.
A senior Nepal Interior Ministry official told Reuters that he feared the death toll could exceed 5,000. The disaster is already the worst in Nepal since 1934, when 8,500 people were killed in an earthquake.
A Nepali soldier said people in remote areas weren't getting the assistance they need. "There is nobody helping people in the villages. People are dying where they are," A.B. Gurung told Reuters.
Three Americans were killed in the disaster and 75 U.S. citizens were taking refuge at the embassy in Kathmandu, ABC News reported. Another 150 Americans sought shelter at an American-run compound in Phora Durbar.
© Copyright IBTimes 2023. All rights reserved.