Nepal Earthquake: In Tent Cities, Water Shortages, Open Toilets Add To Fears Of Looming Health Disaster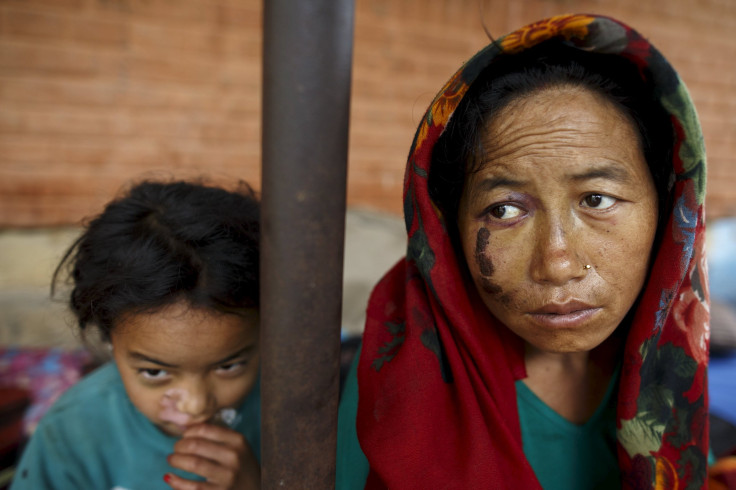 KATHMANDU, Nepal -- At one edge of Tudikhel, the massive public park where thousands of earthquake survivors have taken shelter under rudimentary tents, Nepali army soldiers wearing face masks shovel clumps of dirt into large white plastic bags. The acrid smell suggests one thing: human waste.
In the thousands of tent communities that have bloomed across Nepal's earthquake-hit areas since Saturday, residents whose homes were destroyed often have no choice but to use parts of the encampments as communal, open-air toilets. With no housing plans yet for those left homeless by the quake, the prospect of prolonged tent-city living -- with shortages of clean water, open defecation and a looming monsoon season -- is pushing relief workers to scramble to avoid a full-blown health and sanitation crisis.
In places like Tudikhel, tent community residents have designated certain spots as toilets. Jai Shing Thakur, 68, points to a spot by a dark green van stationed in the middle of the grounds when asked where he and his neighbors go to relieve themselves. The group of men surrounding him nods in agreement. In Tudikhel, volunteers and soldiers have taken it upon themselves to regularly clean those areas as much as possible without a working sewer system.
But in other places, the system is more haphazard. "There is no organized toilet. People go to the toilet everywhere," said 22-year-old Suraj Giri, a resident of Sangachok, a village in the district of Sindhupalchok, perched in the steep foothills of the Himalayan mountain range. Dusty piles of rubble and splintered wood surround him as he explains that the clean water supply is quickly running out.
Some children and babies in the village have started exhibiting signs of diarrheal disease, he said. Next to him, 10-year-old Sandesh Aryal shifted shyly when asked if he had experienced any health problems since Saturday's quake. "Diarrhea," he answered.
"We're more worried about an epidemic than we are about food," said Chakra Tamang, 31, another Sangachok resident.
Clean water supplies have been dwindling in some camps as aid organizations rush to meet the escalating need. In Sangachok, the earthquake damaged the natural spring that had supplied the village's water, leaving residents dependent on their existing stores. The army began transporting tanks of water to villages throughout the district, but their supplies aren't sufficient to meet demand.
"Water is running short and people are drinking whatever they are getting," said Dr. Nikee Shrestha, one of four doctors catering to the sick and injured in Chautara, the regional capital in Sindhupalchok. While medical professionals are distributing chlorine tablets and purifiers, they fear it may not be enough.
Sanitation already is a paramount issue for Nepal, where only about 37 percent of the population had access to proper toilets as of 2012, according to the World Health Organization and Unicef. Nepal has been struggling to meet this year's United Nations Millennium Development Goal on sanitation, which requires it to drastically cut the practice of open defecation. The government has promoted a nationwide Open Defecation-Free campaign, under which it aimed to turn public attitudes away from open defecation and improve sanitation facilities across the country. Last year Nepal pledged to make the country open defecation-free and grant universal access to basic toilets by 2017.
The potential spread of cholera is another major concern in Nepal's tent cities. It's already endemic in the country, but "the risks are much, much higher with all the disruption the earthquake has caused," said Sarina Prabasi, chief executive officer of nonprofit organization WaterAid.
Cholera is a "huge risk unless we start planning for it now," she added. It's a prime time to mobilize all resources to prevent an epidemic from descending, Prabasi said. But Maj. Deepak Gurung, head of the security forces in Chautara, took a much more fatalistic view.
"An epidemic will definitely occur," he said. "It hasn't yet started. But there is going to be one."
Brianna Lee reported from Nepal with travel provided by the International Reporting Project (IRP).
© Copyright IBTimes 2023. All rights reserved.