Nepal Earthquake 2015: Relief Workers Aim To Stave Off Cholera, Other Diseases, Amid Camps And Poor Sanitation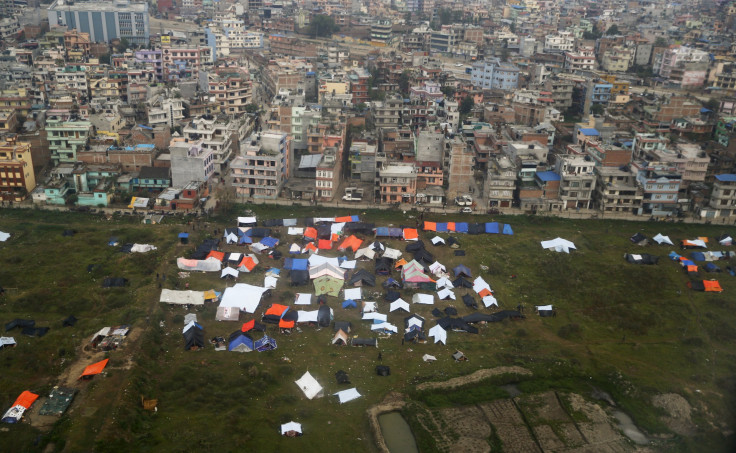 In the wake of a devastating earthquake in Nepal, makeshift camps have popped up in the capital, Kathmandu. New roofs have appeared, too, colorful but unstable and made of tarp. In remote areas where some villages have been leveled, residents have been sleeping in open spaces that also serve as bathrooms when toilets overflow.
As rescuers in the country focus their efforts on pressing needs like food and water, and medical emergencies like crushed bones, they are also trying to stave off another potential crisis: cholera. The disease is endemic to Nepal, and aid workers say that clean water and sanitation are crucial in preventing an outbreak in the aftermath of the magnitude-7.8 earthquake that hit Saturday. But preventing cholera is no easy task in a country where buildings have collapsed and people are on the move, trying to rebuild their lives.
"What we're seeing really does point to cholera being a concern, as well as other waterborne illnesses," said Christy Delafield, a senior communications officer with the international development agency Mercy Corps who arrived in Kathmandu on Tuesday. "There are a lot of families that are not in their homes anymore," she added, meaning that they did not necessarily have access to toilets.
Long History In Nepal
Cholera is a potentially fatal intestinal illness that spreads through contaminated water and food. It causes severe diarrhea and vomiting that can lead to rapid dehydration and death. About 100,000 people around the world die from it every year, the U.S. Centers for Disease Control and Prevention say. The disease has a long history in Nepal, where the first epidemic was recorded in 1823. At least five other outbreaks occurred in the 1800s. In the 1990s, researchers discovered that the bacteria Vibrio cholerae, which causes cholera, was endemic to the country. Cases typically surge during the rainy season, which begins around June and ends in September or October. Rural districts, where sanitation is poor and health services are poorer, have a higher risk of facing cholera outbreaks, but those living in cities are not immune either, as urban areas become more crowded and residents face rising competition for safe drinking water.
Now, as Nepal has just begun its healing process, the United Nations Office for the Coordination of Humanitarian Affairs estimated that 8.1 million people are in need of humanitarian assistance and that in four separate districts, up to 90 percent of health facilities were severely damaged. Fearing aftershocks, or having nowhere else to go, people have moved into temporary camps in open spaces.
In Kathmandu, 1.6 million people have been displaced by the earthquake, the Nepal Red Cross Society said. One camp, near the Tribhuvan International Airport, had become home to more than 40 families, with each tent housing dozens of people, the humanitarian news agency IRIN reported. The government said 16 such camps have been set up in the capital, while nongovernmental organizations say that hundreds exist. In these environments can lurk dangers to public health.
"When people are outside their homes, water and sanitation systems are disrupted," Tarik Jasarevic, a spokesman for the World Health Organization (WHO), said, pointing out that cholera is spread through contaminated water.
Delafield, with Mercy Corps, said the organization had been distributing water purification tablets and showing locals how to use them. "There's definitely a large demand for clean water," she said, describing it as "one of the most immediate needs."
Sanitation was also an issue, Delafield added, recalling a story of a family that was using an overflowing latrine. Mercy Corps has noted elsewhere that in Bhaktapur, about 25 miles east of Kathmandu, more than 1,500 people were living in a camp without toilets. For water, they are collecting rain.
So far, the WHO, which is monitoring for diseases in cooperation with Nepal's Ministry of Health, has not received any reports of cholera or other intestinal illnesses in Nepal, Jasarevic said. But, "there are areas that have not been reached yet," he cautioned, adding that people who had been critically injured in the earthquake were the medical priorities at the moment.
Comparisons To Haiti
Inevitably, comparisons have surfaced between the disaster zone in Nepal and that of another of the worst earthquakes in recent memory, one that shook Haiti in January 2010 and killed up to 316,000 people. Nine months after that disaster, a cholera epidemic struck. Since then, more than 8,500 have died from the disease, which was ultimately linked, ironically, to a group of U.N. peacekeepers from Nepal who were stationed in Haiti.
But Nepal has a vastly different profile than Haiti and is better prepared to confront cases of the disease, Dr. Daniele Lantagne, a specialist in cholera and a professor at Tufts University in Boston, said. Because the illness is endemic to the country, locals are familiar with its symptoms, and doctors also know how to treat infected patients.
"In Haiti, there was no knowledge of cholera," Lantagne said. "It was a complete surprise." Cholera outbreaks were more likely to occur where populations were displaced in large numbers, she added.
So far, it's unclear how many people have been pushed from their homes by the earthquake, whether into camps or out of cities altogether. Kathmandu is seeing an exodus, with more than 100,000 having left the capital in the wake of the earthquake, the Guardian reported.
"You'll control the potential for outbreaks by getting people reestablished in their homes, by ensuring people have adequate medical care and shelter," Lantagne noted, suggesting that for Nepal to see a large-scale cholera outbreak was unlikely.
© Copyright IBTimes 2023. All rights reserved.