Nepal Earthquake: US Marine Chopper Crash Victims' Familes Demand Compensation; Search Resumes In Trekking Village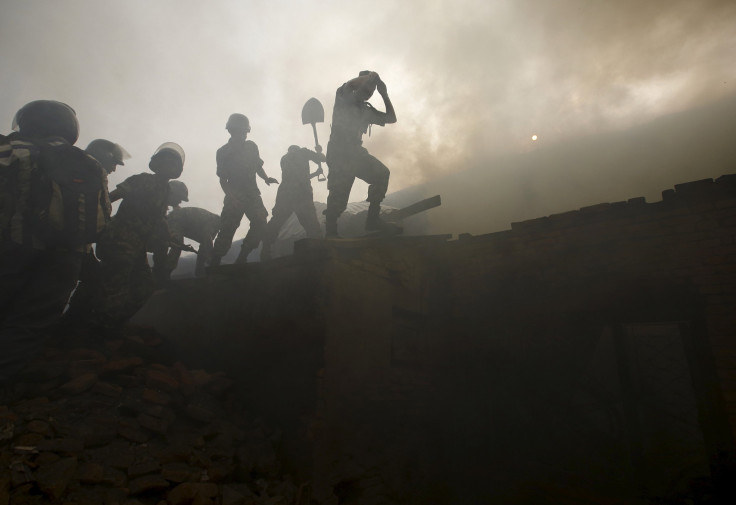 The families of five Nepali nationals who were killed when a U.S. Army helicopter crashed last month while conducting relief work have demanded compensation from the U.S., the Associated Press reported. Authorities had previously said that six U.S. Marines and two Nepali army officials were on board the UH-1 Huey chopper that went down about 15 miles from the town of Charikot -- one of the villages most affected by a magnitude-7.3 earthquake that struck the region in May.
The chopper reportedly crashed on May 12 in Nepal's northeast and its wreckage was found after days of search in areas that were devastated by two earthquakes that killed thousands of people. Nepal's army reportedly announced Friday that five civilians were also on board the helicopter. The confirmation came after U.S. and Nepali authorities conducted DNA tests.
"We are demanding the United States provide money as compensation or insurance to the families of those killed in the helicopter crash," Purna Bahadur Khatri, whose brother Shiva Bahadur was killed in the crash, said, according to AP. "It took weeks for the authorities to even admit that our missing family members were killed in the crash. We have not had any contract from the U.S. government or our government or if we are going to get compensation."
The families of the victims gathered on Monday at the Tribhuwan University Teaching Hospital in Kathmandu where the remains of the five civilians were kept, and said they would not cremate the remains until the issue was resolved.
Amir Katwal, who lost his father in the crash, reportedly said that his father and other people injured in the earthquake were on board the helicopter, which appeared to be overloaded.
"Two soldiers got off and loaded the people, and they all got inside the helicopter that had no seats and was crowded. I was just happy that my wounded father was going to a hospital," Katwal reportedly said.
The U.S. relief operation began after a magnitude-7.8 earthquake hit Nepal on April 25, killing over 8,700 people in the worst quake to hit the Himalayan region in 80 years. The powerful quake was followed by a magnitude-7.3 quake on May 12, which killed over 100 people and injured over 3,000.
On Monday, Nepali soldiers continued to look for bodies of victims after 53 bodies of hikers and villagers were found buried in avalanches that were triggered by the quake in April, Reuters reported. Last month, search and rescue operations were halted in the village of Langtang, about 40 miles north of Kathmandu, after fresh avalanches buried some of the 128 bodies that had been recovered earlier.
"It is still confusing whether all these 53 bodies are new or also included those that were washed away by the avalanche after being recovered earlier," an army spokesman told Reuters.
© Copyright IBTimes 2023. All rights reserved.