New Anthony Weiner Sex Scandal? Explicit Chats, Purported Penis Pictures And Phone Sex Allegations Lodged At NYC Mayoral Candidate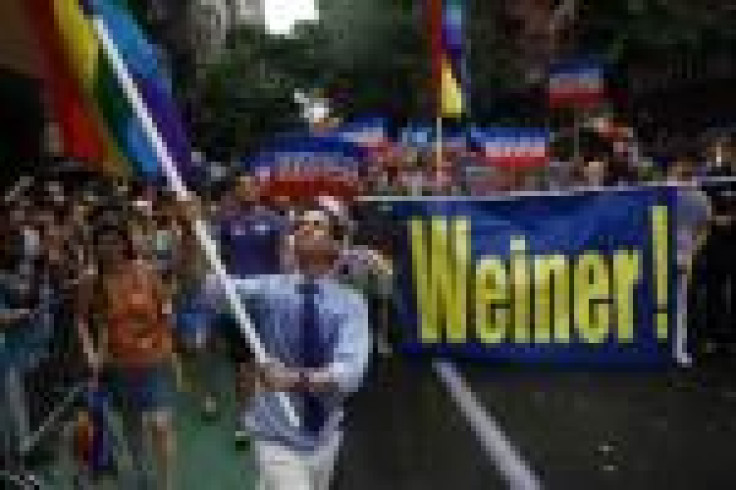 Is Anthony Weiner ensnared in another sex scandal? The former congressman and current New York City mayoral candidate, who resigned from his House seat in disgrace amid a sexting scandal, is facing new allegations of engaging in sexually explicit chats with a woman online.
The chats, allegedly between Weiner and a woman who sent the exchanges to the web site The Dirty, went back and forth on Facebook and Formspring. Weiner was asked by Buzzfeed about the accusations, and a spokeswoman has yet to respond.
The exchanges only show the times of the chats, but The Dirty claims the sexually explicit messages were sent after the Weiner sexting scandal hit in May 2011. Weiner allegedly used the screen name "Carlos Danger" on Formspring.
The anonymous woman, who said she was 22 when the interaction began, and Weiner allegedly also had phone sex multiple times, according to The Dirty.
The site's publisher, Nik Rithcie, vouched for the source, who did not give her name.
"My source is solid," Rithcie said. "She really thought Anthony Weiner and her were in love, they spoke on the phone daily multiple times a day for six months. Anthony Weiner played with her emotions and mind," Ritchie wrote. "Most calls were phone sex. He promised her many things including a condo in Chicago (1235 S. Prairie Ave) where they were planning to meet up to have sex. Anthony Weiner has a shoe fetish, particularly heels."
In one message allegedly sent from Weiner on Formspring, the user Dangr33 describes a scenario in which he engages in sex with the woman. In another, he pleads for phone or online sex.
"I said I was hard," the user wrote. "Help me."
"Almost home," the woman answered. "Be patient J"
The two also speak politics, according to the chat.
"Specifically your health care rants were a huge turn on," the woman wrote.
In a Facebook chat, a user named Anthony Weiner apparently sounds spooked at the thought of the existence of logs of the online sex talk and asks the woman to "do me a solid.
"Can you hard delete our chats here," the user named Weiner says. The woman's name is redacted in The Dirty's posting of the exchanges.
Weiner, 48, got in hot water in 2011 when he publicly tweeted a picture of his underwear-clad penis to a young woman that was intended to be a direct message instead of a public tweet. The then-congressman initially claimed the photo was not of him and that his Twitter account was hacked. He later confessed to sending the tweet and engaging in sexual online chats with other women, although he claimed he never had actual sex with any of the women. He resigned in June 2011.
The anonymous woman who came forward to The Dirty sent the site a photo of what she purported to be a picture of Weiner's penis.
The woman explained how she allegedly got involved with Weiner and why she doesn't want to be identified.
"The part that's most annoying is that I was 22 and in a bad place, but if anyone asked him he would say the same thing about himself, yet he's an adult," she wrote on The Dirty. "This was a bad situation for me because I really admired him. Even post scandal, I thought he was misunderstood. Until I got to know him. I thought I loved him. Pretty pathetic. Last August he even offered to help me get a condo in Chicago, without me asking. I'll send screenshots of everything. I'm trusting you to keep my name out of it, because like I said, it was obviously a mistake. I was young and dumb. I just want people to really know he's lying when he acts like he has changed."
After a two-year absence from public life, Weiner announced he was running for mayor of New York City last month. Despite his recent entry in the Democratic primary field, polls show the former congressman leading the race. But should the chats prove to be authentic, expect Weiner to be hammered in future polls.
Are the chats real? The answer to that question is up in the air, as Weiner's spokeswoman has yet to respond to the allegations. BuzzFeed noted that the blank avatar purportedly on Weiner's Facebook account matches the same blank image on Facebook messages sent by Weiner before the sexting scandal. But as BuzzFeed noted, that coincidence does not necessarily mean that the accounts are the same.
© Copyright IBTimes 2023. All rights reserved.