New ISIS Beheading Video Shows Four Kurdish Fighters Die At Hands Of Islamic State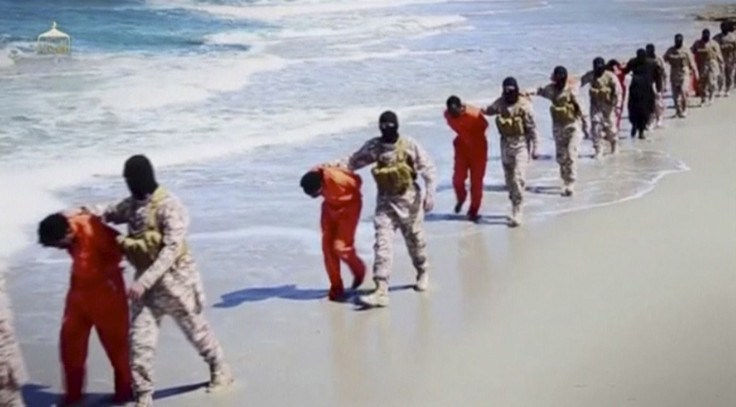 Masked terrorists behead four Kurdish fighters in retaliation against a United States-led raid on an Islamic State group jail in northern Iraq last week in a video reportedly released Friday by ISIS. In the video, three Kurdish peshmerga fighters watch as a man dressed in black takes a knife to the neck of one of their fellow fighters, all while kneeling in front of similarly dressed men with knives.
U.S. officials rescued 70 hostages last week in a raid that left more than 20 ISIS fighters dead and about six captured, CNN reported. The raid left one U.S. commando dead, Joshua Wheeler, the first to be killed combating ISIS on the ground, Reuters reported.
In the video, one of the purported terrorists addressed U.S. President Barack Obama, saying the raid was a failure. The video contains graphic content.
"Obama, you have learned a new lesson," the masked man said in the video. "Six of the soldiers of the caliphate faced 400 of your children. They killed and injured them by Allah's grace. You are probably surprised by this."
The peshmerga are a group of ethnic Kurds who have been fighting ISIS in areas of northern Iraq. The Kurds called for the raid to save peshmerga forces from beheadings, but ISIS said after the raid that none of the hostages rescued were peshmerga.
ISIS has released videos of purported beheadings before, such as in February when a video depicted the terrorists beheading 21 Copic Christians near a beach in Libya. Some have claimed, however, that some of the videos appear to be manipulated.
In August, Syrian state media claimed ISIS had beheaded an antiques scholar. The terrorist group took Maamoun Abdulkarim hostage after it took control of the ancient city of Palmyra in May.
© Copyright IBTimes 2023. All rights reserved.
FOLLOW MORE IBT NEWS ON THE BELOW CHANNELS