Is ISIS Beheading Video Of 21 Egyptian Christians Fake? Film Experts Argue 'Yes'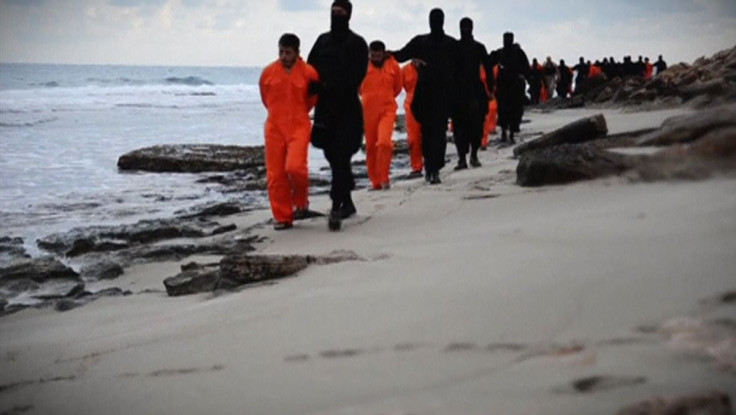 The Islamic State group video of the beheading of 21 Coptic Christians by a Libyan beach that was released Feb. 15 sickened and outraged the world. It even prompted Egyptian airstrikes in retaliation near the eastern port city of Tripoli, where it looked like the video had been shot. But some experts -- including Veryan Khan, executive director of the Terrorism Research and Analysis Consortium in Florida, and Mary Lambert, a horror filmmaker who directed "Pet Sematery" -- told FoxNews.com that much of the video appears to have been manipulated.
According to the visual-effects experts, the telltale signs that all is not as it seems in the video attributed to the militant group formerly known as either ISIL or ISIS include killers who appear to be 7 feet tall, at least 2 feet taller than their victims, and a sea turning red, which they say would take more than the blood of 21 men.
"The Islamic State's manipulation of their high-production videos has become commonplace," Khan told Fox, adding that the militant group's "revolutionary" use of green-screen techniques was likely done "to limit exposure to drones [and] satellite [locating of] their operations." Khan reasoned it was during the post-production process that the video's editors added the executions to previously captured outdoor scenes.
"I think that in the opening shot all the figures might be animated," said Lambert, a professor at New York University in the film department. "They never had more than six men on the beach." Lambert said the additional figures were likely added through rotoscoping, a special-effects technique that entails removing a figure from one scene and inserting it into another with a different background.
Khan also noted the beheading of the final victim also looked manipulated. "Not only did it lack the correct blood pulsation for decapitation," Khan said, "but [it] seems to have had the blood 'faked' with cornstarch." There's a possibility, Khan told Fox, that the beheadings were not done at the same time, the evidence being that the blood did not darken due to oxygenation.
It is unlikely any of the Egyptian fisherman who had gone to Libya to make extra money for their families is still alive, the experts said, but the mass execution in the manner shown in the sensational Islamic State group video is likely fake.
Lambert especially focused on the size discrepancy between the ISIS figures and their captives, saying, "The shot that seems really tampered with is the one with the really tall Jihadists and the dwarf Christians."
© Copyright IBTimes 2023. All rights reserved.
FOLLOW MORE IBT NEWS ON THE BELOW CHANNELS