New Marijuana Laws 2014: When Recreational Pot Will Be Legal In Alaska, Oregon And Washington DC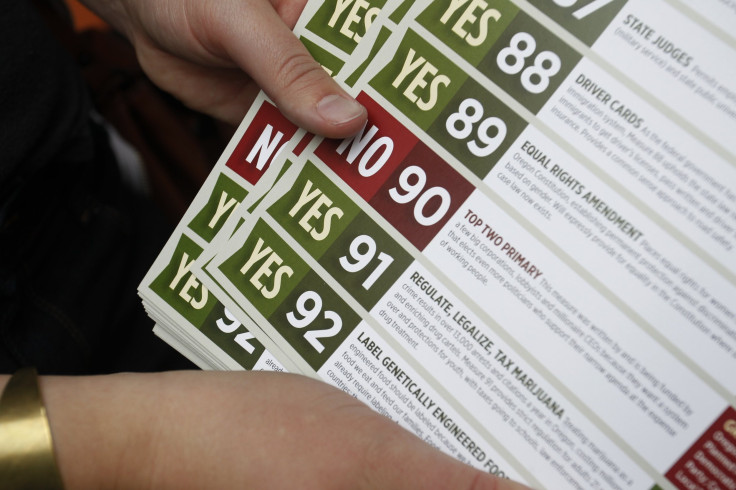 Advocates of marijuana legalization in the U.S. had several reasons to applaud on Tuesday as the results of the 2014 midterm elections came rolling in. While Floridians rejected a plan to legalize medical weed in the state, voters in Alaska, Oregon and the District of Columbia approved laws that allow residents 21 or older to possess limited amounts of pot for recreational purposes. Alaska's and Oregon's laws go one step further in providing a framework for weed to be sold and distributed, much like what's in place in Colorado and Washington, where voters had previously legalized marijuana.
Don't celebrate by lighting up a joint just yet. The new laws in Alaska, Oregon and D.C., don't take effect right away, which means the old rules still apply. The measures also spell out strict restrictions for the sale and use of marijuana, which means smoking a doobie under the law will still be tougher than, say, buying beer at the local bar.
To avoid getting caught on the wrong side of the law, here's a rundown on when it's legal to have and consume marijuana in Alaska, Oregon and Washington, D.C.
Alaska
Alaska's Ballot Measure 2, which passed Tuesday with 52 percent voter approval, allows adults 21 and older to possess up to an ounce of marijuana and six plants for personal use. Production and sales of marijuana will be regulated by the Department of Commerce, Community and Economic Development. The new law will not take effect until 90 days after state officials have certified the election, which is expected to be done by late November. That means the law will likely take affect in late February 2015. Even then, consuming marijuana in public will remain illegal, however, and be punishable by a fine of $100.
Getting sales of marijuana up and running is another story. Lawmakers have nine months from the day the law is certified to draft up plans for how marijuana businesses will operate. State legislators will not meet again until January 2015 and could take the entire length of their session, four months, to decide who should take over regulating marijuana sales -- the Alcoholic Beverage Control Board or an entirely new marijuana board. If the board misses its nine-month deadline, "local government bodies can take a stab at" creating regulations, a process that could delay sales even further, Cynthia Franklin, director of Alaska's Alcoholic Beverage Control Board, told International Business Times.
Oregon
Oregon voters legalized recreational marijuana on Tuesday through Measure 91, but no changes will be made until July 1, 2015. The new law allows adults to possess up to one ounce of marijuana in a public place and up to 8 ounces in their home. Under the law, "there's no public consumption," Christie Scott, a spokesperson for the state's liquor control board, told IBTimes. The state's DUI laws, which prohibit driving while high, will remain the same, she said.
Legal sales of retail marijuana in Oregon won't happen until sometime in 2016. Oregon's Liquor Control Commission has until Jan. 1 of that year to draft rules and regulations for the production and sale of pot. The first licenses will be issued during the first half of 2016. For now, Oregon residents cannot legally buy weed, however, they can start growing their own or get it from someone who is growing it starting July 1, 2015. Until then, possession of one to 4 ounces of pot remains a misdemeanor. Any more is considered a felony. Having less than one ounce of pot is a noncriminal violation.
Washington, D.C.
Initiative 71 legalized adult marijuana use in the country's capital, including allowing adults 21 and older to possess up to two ounces of weed and to cultivate up to six marijuana plants for personal use. Selling pot, however, will remain illegal. Although voters approved the initiative, Congress still has to review the bill in January. Lawmakers will have 60 days to consider all new laws in the District. They could stop the initiative from becoming law, in which case recreational marijuana would remain illegal in D.C. If the measure passes, it would go into effect in early 2015.
© Copyright IBTimes 2023. All rights reserved.