New Year's Eve Banned In Gaza: Hamas Rules Holiday Celebrations 'Incompatible' With Islamic Values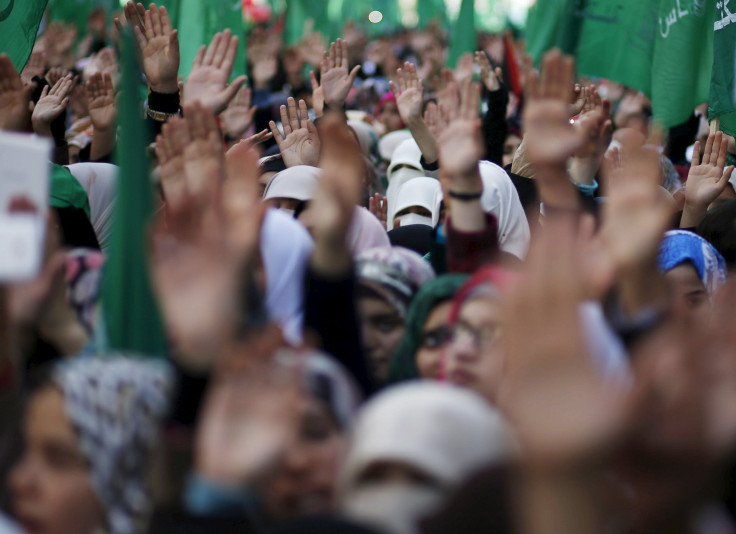 The Palestinian Islamic organization Hamas has reportedly banned all New Year's Eve celebrations this year, Agence France-Presse reported Wednesday. Hotels and restaurants that requested permits to hold public parties Thursday night were denied the right to do so, and the police have vowed to clamp down on unlicensed celebrations.
Hamas leaders determined such celebrations were "incompatible with our customs, traditions, values and the teachings of our religion," police spokesman Ayman al-Batinji told AFP. Parties for the holiday were also seen to go against "solidarity with the families of the martyrs of the Jerusalem intifada," he said. The comment referred to turmoil that has spilled across much of the West Bank in recent months.
Violence has swept across the region in recent months, as a number of Palestinians have attacked Israeli passers-by with knives. At least 20 Israelis have died in attacks, and more than 100 Palestinians have been killed, many in clashes with Israeli security forces. Some Palestinians have termed the recent wave of unrest an "intifada," a word that has become synonymous with Palestinian uprisings against Israel.
Hamas is a political party that won an election in Gaza in 2006. It is considered a terrorist organization by Israel, which blockaded the Gaza Strip, severely restricting exports and imports and human passage into and out of Gaza. Human rights organizations and Palestinians say the blockade has caused a massive humanitarian crisis. Hamas, too, has been accused of rights violations, particularly against members of the Fatah political party, which is the Palestinian government in the West Bank. The group has also been accused of indiscriminately targeting Israeli civilians with rocket fire at times of heightened conflict with Israel.
The Islamic calendar typically follows the lunar cycle, meaning New Year's Day fell several months ago, but many throughout Arab countries and the wider Muslim world also celebrate the Gregorian calendar date of Jan. 1. Celebrations are popular in the Palestinian West Bank, and in the past, venues were granted permission to hold closed New Year's Eve parties in Gaza as well.
© Copyright IBTimes 2023. All rights reserved.