New York Fashion Week: 'Strut: The Fashionable Mom Show' Sends Mothers Down the Runway [PHOTOS]
On Thursday, mothers were in the spotlight to hit the runway for "Strut: The Fashionable Mom Show," the first ever show featuring moms for Mercedes-Benz Fashion Week in New York.
Featuring over 20 mothers wearing a mix of designer and non-designer clothing, women of all shapes and sizes walked the runway to songs from Beyoncé, Rihanna and LMFAO's "Sexy and I Know It" held in The Donald and Mary Oenslager Gallery at the New York Public Library for the Performing Arts at Lincoln Center hosted by supermodel and mother Iman.
In partnership with Mom-entum, Big Fuel, Getting Gorgeous and founding director of Fashion at Lincoln Center Stephanie Winston Wolkoff, Denise Albert and Melissa Gerstein of the multiplatform style brand The Moms spearheaded the project and brought it to life at Fashion Week, a realm never explored amidst the world of pin-thin models and couture.
"There are all these shows here that are beautiful but it's a size zero, six-foot-tall woman walking down the runway and that is not the everyday mom," Melissa Gerstein of The Moms told the International Business Times backstage after the show. "When you look fabulous, you will feel fabulous."
According to Gerstein, the event was a celebration of motherhood, and that it was. As the moms walked down the runway decorated in a fall theme with autumn leaves courtesy of Douglas Hannant, members of the audience cheered and gave high fives to the mommy participants.
"I really want to focus on the celebration of motherhood because it's really important to recognize mothers and women of all shapes, sizes and colors," Gerstein said.
Both designers like Tory Burch, Rachel Roy and Vera Wang along with top consumer brands like T.J. Maxx and Marshall's donated clothing for the runway show, much to the pleasure of Gerstein.
"All of these designers, the high end sprinkled in with the low end, that's really what the everyday mom is doing," Gerstein said. "She's wearing the Gap but maybe sprinkling in a higher-end bracelet or fashion piece on the feet. So that's what was really nice, the combination of high and low that came together."
Gerstein said that along with empowering mothers, the motive of Strut was to show how looks can be transformed for all parts of a busy day in motherhood, whether it's a play date or a night out.
"That is what is the everyday mom: running through her day, trying to get everything done," Gerstein said. "I really like affordable and transformable clothing that will take me from mommy drop off to a meeting back to a pick up back to another meeting throughout the day that's also comfortable."
While much of the focus was on how to rejig outfits, Denise Albert of The Moms strives to show mothers worldwide that while their lives do inevitably change after having children, they themselves do not need to change.
"The whole point of this is I like to stay exactly who I am and I like to dream big," Albert said. "I really believe that just because you have kids, you do not need to alter things in your life. I think that it's ok to alter little things."
From sexy cocktail dresses, to evening gowns, to skinny jeans and sparkly blouses, moms strutted down the runway with strollers, their children and even buns in the oven, like Lauren Jimeson, a blogger for A Mommy in the City who walked 37 weeks pregnant.
"It was very empowering," Jimeson told reporters backstage. "It was a confidence booster, which is definitely what I need at this stage of pregnancy!"
More importantly, Melissa Gerstein and Denise Albert wanted to open dialogue about balancing motherhood with a career and children, which proves to be a difficult task for many when most of the focus is on their children.
"When we started, our main message was honestly moms," Gerstein said. "Opening up the dialogue and we've opened it up again but in the fashion world."
"It's even greater now. It's more than opening the dialogue," Albert said. "I believe that really anybody can do anything that they want."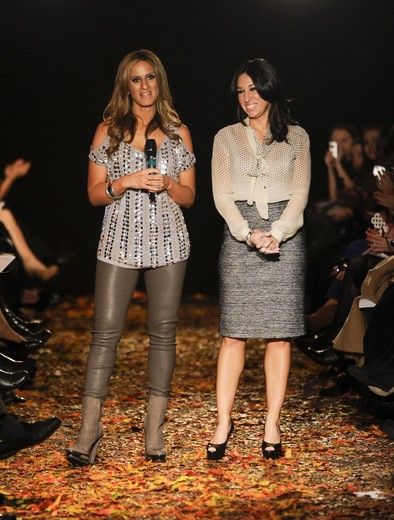 © Copyright IBTimes 2023. All rights reserved.