New York Knicks, Jeremy Lin Beat Indiana Pacers -- Win Streak At Three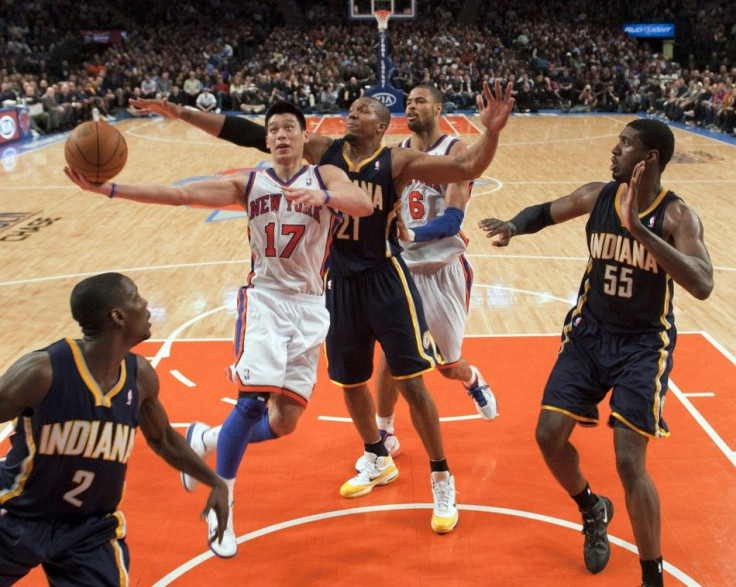 The New York Knicks and Linsanity are back. The road woes have ended for the New York Knicks and point guard Jeremy Lin, as the team claimed a third straight win Saturday night, beating the Indiana Pacers 102-88 to end a six-game road slump.
The Knicks wore green uniforms in recognition of St. Patrick's Day for the road game in Indianapolis, but didn't let the contest fall to luck as they beat the Pacers in most every aspect of the game. Among the Knicks' biggest stars was Lin, who scored a team-high 19 points and grabbed a career-high seven rebounds to go along with six assists and just two turnovers.
We were just trying to be aggressive and take what they gave us, Lin said after the game in an interview on the MSG Network.
The Knicks outshot the Pacers from the field and outrebounded the Pacers on the boards while limiting turnovers to just 11, compared to 15 for the Pacers.
The Knicks outscored the Pacers 25-14 in the fourth quarter.
It was the third consecutive win for Knicks interim head coach Mike Woodson, after replacing Mike D'Antoni who resigned this week. The Eastern Conference win was critical for the Knicks, who are trying to hang onto a playoff berth in the second half of the season. The Knicks beat the Pacers in New York on Friday night, after beating the Portland Trailblazers by 42 points on Wednesday night.
The Knicks improved to 21-24 on the season, currently in eighth place in the Eastern Conference for the final playoff position, while the Pacers fell to 25-18.
The Knicks led the entire second half after taking the lead in the second quarter en route to a 60-51 lead at the half.
Energy, big-time energy, Knicks assistant coach Kenny Atkinson said, in an interview on the MSG Network just after the first half, about why the team was in the lead. In the second quarter, Atkinson said the Knicks cut [the Pacers'] transition points.
The Knicks had lost six straight games on the road, and the team's playoff hopes appeared in jeopardy. But after three consecutive wins under Woodson, the team continues to battle for a playoff spot.
The beauty about tonight is we kind of lost our composure ... but were able to hang in there, and our defense brought us right back, Woodson said in an interview on MSG Network after the game. Right now, we are playing pretty good basketball and just got to keep it going.
The chemistry between Lin and stars including Carmelo Anthony was good in the game, though Anthony took just 13 shots. He was consistently involved on offense and defense.
I thought Jeremy was outstanding on the pick-and-roll tonight, Woodson said.
© Copyright IBTimes 2022. All rights reserved.
FOLLOW MORE IBT NEWS ON THE BELOW CHANNELS