NFL Rumors: Browns Talking Trade Ahead Of 2018 Draft? Saints Looking To Move Up?
The first round of the NFL Draft begins on Thursday night with several teams expected to consider moving up or moving down. One team likely to field a number of phone calls is the Cleveland Browns, a constantly rebuilding team with the No. 1 and No. 4 overall picks.
The Browns, who traded down from the No. 2 pick in 2016, have had "a lot of conversations" about the No. 4 overall pick, according to Mark Sessler of NFL.com.
Sessler referenced the Buffalo Bills, Miami Dolphins and Arizona Cardinals as teams that may consider moving up in the draft. The Dolphins have the No. 11 pick, the Bills own the No. 12 spot and the Cardinals are at No. 15. All three teams are expected to at least consider drafting a quarterback.
The Browns are expected to take a quarterback with the No. 1 overall pick. There have been rumors that they will select University of Oklahoma star Baker Mayfield, but many experts think Sam Darnold of USC should go No. 1. There may be some hesitation by the Browns to pick Mayfield after taking draft bust Johnny Manziel in 2014.
The NFL Network's insider Ian Rapoport posted on Twitter that the New Orleans Saints could be looking to make a deal to move up from No. 27. The Saints don't have an intriguing backup for 39-year-old Drew Brees.
In an unusual year, several teams may be looking to draft one of five high-profile quarterbacks in the first round. Rapoport described this draft as "the wackiest" in years.
Aside from Mayfield and Darnold, Penn State running back Saquon Barkley is expected to be taken in the first five picks. North Carolina defensive end Bradley Chubb might also be a Top-5 pick. That leaves quarterbacks Josh Rosen (UCLA), Josh Allen (Wyoming) and Lamar Jackson (Louisville) potentially falling out of the first five picks.
Meanwhile, the Carolina Panthers are reportedly re-signing star tight end Greg Olsen to a two-year extension worth $8.55 million a year, with the potential to earn $10.05 million a year.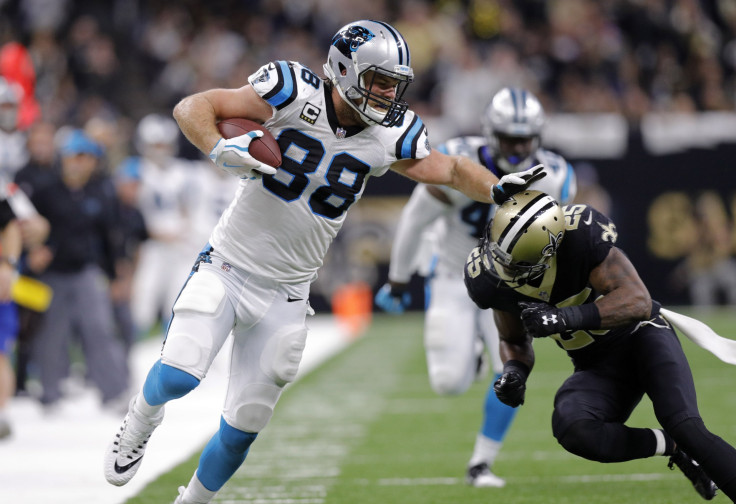 © Copyright IBTimes 2023. All rights reserved.