Nicaragua Wants Russian Fighter Jets, Making Central American Neighbors Nervous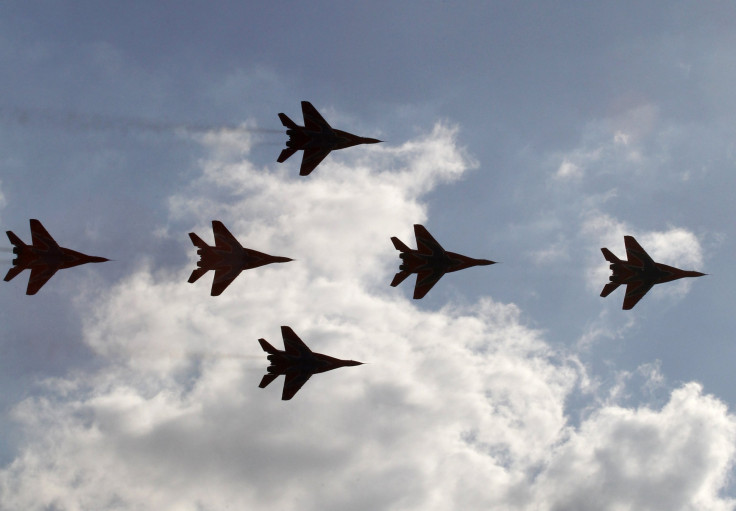 Nicaragua is hoping to buy fighter planes and other military assets from Russia to modernize its military, but those plans are sending jitters through other Central American nations. Russian Foreign Minister Sergei Lavrov visits Nicaragua on Wednesday to firm up ties with the country and potentially discuss a deal, but Managua's neighbors warn that the sale could tip the balance of military might in the region.
Nicaragua's military chief, Gen. Julio César Avilés Castillo, confirmed to local media Tuesday that the country was aiming to purchase Russian aircraft and ships to modernize its defense capabilities and aid in anti-drug trafficking operations. He named several types of aircraft as possible purchases, among them "Tucano, Super Tucano, A-37, Yak-130 and MiG." "Anything we can have, it will be welcome," he said, according to Nicaragua's La Prensa newspaper.
Tucanos are turboprop trainers with a ground-attack capability made in Brazil; A-37s are old, Vietnam War-era American attack aircraft widely used by other Latin American countries; the Yak-130 is an advanced Russian trainer and fighter; and by MiG Avilés may have been referring to the MiG-29, also Russian, a fighter-bomber that would give Nicaragua top-notch aerial capabilities that its immediate neighbors do not have.
Avilés said most of the military's current assets, Soviet aircraft and ships made in the 1980s, are insufficient to cover all the country's territory to detect intruders. "Nicaragua has, as does any other country, the right to explore the best way to equip itself in order to comply with the sacred mission of defending its national sovereignty," he declared.
The general's comments took on a defensive edge, particularly because rumors of the impending military purchases have been sparking concern among Nicaragua's neighboring countries. Speculation has abounded for weeks that Nicaragua might buy at least six MiG-29 jets from Russia – worth around $29 million each – which set off some alarm.
"This represents an imbalance for the region," Honduras's former military chief, Gen. Romeo Vasquez Velasquez, told Honduras's La Prensa newspaper last month, referring to the MiG-29 rumors. "If they are fighter-bombers, these are not to combat narcotrafficking -- this means a further increase of military power."
The issue has also perked attention from Costa Rica, which has no official military. Costa Rican Foreign Minister Manuel Gonzalez brought up the issue with U.S. Secretary of State John Kerry in a meeting in late February. The issue is the subject of "profound worry for some countries in the region," Gonzalez said at a press conference last month.
Colombia, which has maintained tensions with Nicaragua over a maritime territorial dispute, is also watching the developments carefully. In February, Colombian Sen. Jimmy Chamorro asked President Juan Manuel Santos to assemble a committee to study the potential threat that a Nicaraguan military upgrade would pose to Colombia, a vastly larger nation.
Some Nicaraguans aren't too pleased with the plans either, with some saying the funds might be better spent on social programs to mitigate extreme poverty. Nicaragua has the second-highest poverty rate in Latin America. "The country's economic situation, and especially the vulnerability of certain groups in the population to poverty and extreme poverty, requires all resources and efforts to be directed at resolving this type of challenge," Elvira Cuadra, director of Nicaragua's Institute of Public Policy Studies and Strategies, told the Inter-Press Service news agency.
Meanwhile, U.S. officials have noted Russia's moves to expand its global military presence. Earlier this month, Gen. John Kelly of the Southern Command told a Senate committee that Russia was attempting to shore up influence in Latin America as part of a Soviet-style power play against the United States. Russia's moves "underscore the importance of remaining engaged with [the U.S.'s] partners," Kelly said, noting that Russia's moves didn't imply any immediate threat to Washington.
Lavrov's Nicaragua stop comes in the middle of a brief Latin America tour, which began Monday in Cuba and also includes visits to Guatemala and Colombia.
© Copyright IBTimes 2023. All rights reserved.