Nicaragua Canal Project: US Embassy Expresses Worry Over Lack Of Transparency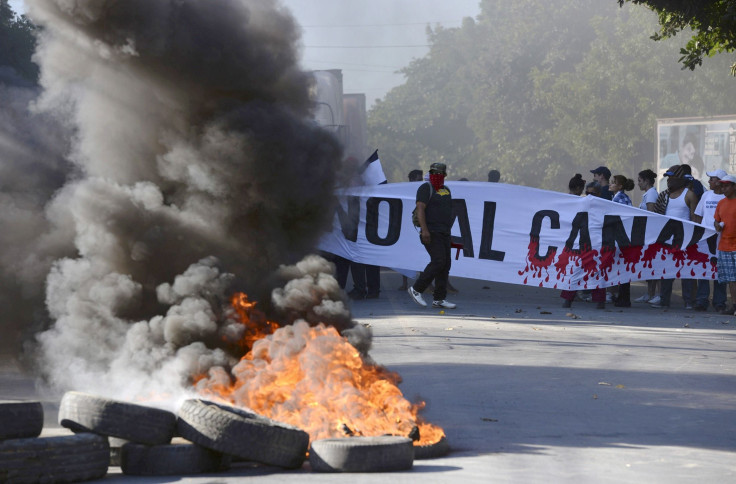 The list of skeptics on Nicaragua's massive interoceanic canal project grew by at least one more this week. The U.S. embassy in Managua expressed concern over what it called a lack of transparency in the $50 billion Chinese-led project, which broke ground less than three weeks ago.
"The embassy is worried by the lack of information and transparency that has existed, and continues to exist, over many of the important aspects of this project," the embassy said in a statement released Tuesday.
The canal, which the Nicaraguan government has touted as a rival to the Panama Canal and a way to pull millions of citizens out of poverty, has been the source of increasing anger for environmentalists and residents along the proposed route, who say the waterway could lead to expropriations and irreversible damage to the country's largest freshwater lake. Suspicion and skepticism have mounted around the project since the government in 2013 awarded a Hong Kong-based company, HKND Group, the concession to build and manage the canal without opening bids to other companies. Environmental impact and feasibility studies have also remained concealed from the public, although the government and HKND Group have maintained that it will cause minimal ecological damage.
Local protests have escalated in Managua and cities close to the canal route over the past several months, but the U.S. embassy had remained quiet until this week.
"We urge that in all phases of this project, including the financing, the feasibility and environmental studies, the bidding process for participating construction companies from the United States and other nationalities, and the methodology to resolve the issue of property, and other aspects – are done in a way that is open and transparent," the embassy statement added.
HKND Group has not revealed the names of investors backing the project, leading to rumors that the Chinese government may be financing the canal behind closed doors. HKND Group CEO Wang Jing has denied that speculation. Hong Lei, China's foreign ministry spokesperson, also denied that the government was behind the project. "The project is the action of the relevant company's own initiative. The Chinese government has not been involved," he said at a press briefing Wednesday, adding that Chinese companies operating overseas were required to abide by local laws.
© Copyright IBTimes 2023. All rights reserved.