Nick Griffin, Former British National Party Leader, Expelled For 'Harassing Members'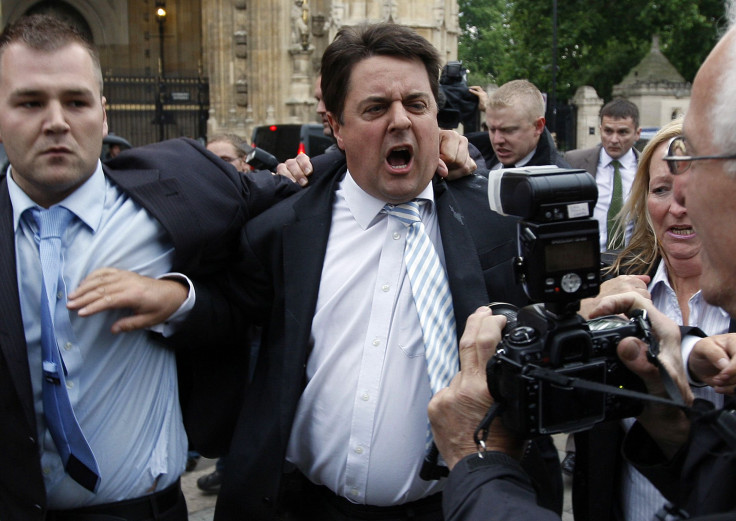 The British National Party has confirmed it has expelled its former chairman Nick Griffin.
The BNP said the decision to expel Mr Griffin had been taken by its conduct committee following an investigation, after he stepped down as party leader in July after 15 years at the top.
Mr Griffin quit the leadership role of the British National Party following a disastrous local election campaign earlier this year, after the party lost all its UK Members of Parliament, or MPs, in May's local elections, only managing to keep two of their local government councillors. Mr Griffin lost his seat in the European Parliament.
The party's Conduct Committee took the step in a letter sent to Mr Griffin on Wednesday, in which they accused the 55-year-old of trying to cause disunity among the party members.
The BNP accused him of trying to "destabilize" the party and "harassing" party members.
It claimed Mr Griffin prepared and leaked "damaging and defamatory" allegations about senior members of the party and its finances.
It also accused him of "harassing members of BNP staff and in at least one case making physical threats" as well as publishing e-mails giving a false account of his own financial affairs after he was declared bankrupt in January.
Adam Walker, the party's chairman, claims his warnings to Griffin that he was bringing the BNP into disrepute, had fallen on deaf ears.
A statement from the committee said: "This has been a difficult decision to make and not one taken lightly. Although we all appreciate that Nick has achieved a lot for our party in the past, we must also remember that the party is bigger than any individual," Clive Jefferson, a member of the conduct committee, said in a statement.
"Nick did not adjust well to being given the honorary title of president and it soon became obvious that he was unable to work as an equal member of the team and alarmingly his behavior became more erratic and disruptive."
In a tweet, Mr Griffin protested at the decision, accusing the party leadership of "plastic gangster games" and stating that he had been "expelled without a trial".
The party's divisions, he added, were linked to its slump in electoral support since 2009 but observers also claimed that there had been arguments over the party's financial affairs.
Mr. Griffin lost his seat as an MEP for northwest England earlier this year and was declared bankrupt in January.
This article is copyrighted by IBTimes.co.uk, the
business news
leader