Nigeria Chibok Kidnapping: President Buhari Vows Fresh Investigation Into Boko Haram Abduction Of Schoolgirls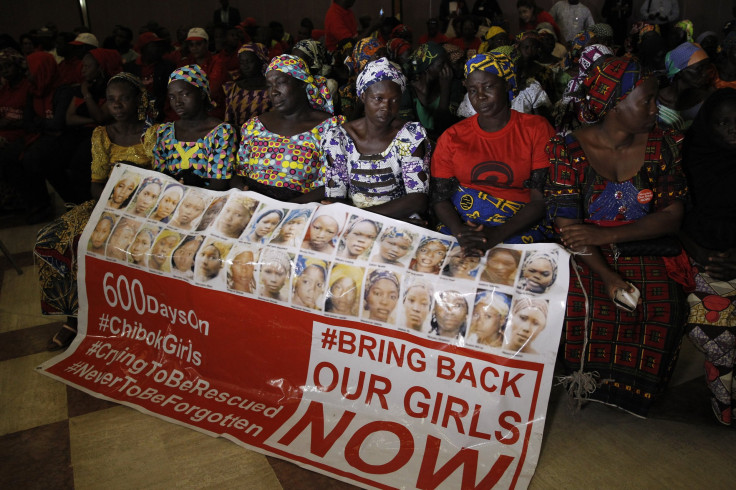 Nigerian President Muhammadu Buhari has vowed to launch a fresh probe into the kidnapping of more than 200 schoolgirls by the Boko Haram insurgent group, local media outlets reported Thursday. The promise came as the president was meeting with some of the parents of missing children, who were abducted in April 2014 from their school in Chibok.
"I assure you that I go to bed and wake up every day with the Chibok girls on my mind," Buhari said in a statement.
Boko Haram violence has killed some 17,000 people since 2009 and has forced millions from their homes. The kidnapping of 276 teenagers in 2014 sparked a global social media campaign called Bring Back Our Girls, and incited criticism of the Nigerian government for failing to defeat Boko Haram. Nearly 60 girls managed to escape from Boko Haram, but 219 are still being held.
"Where is my daughter? I want my daughter back no matter the condition she is in," Iyana Galan told Agence France-Presse. "Even if she is dead I want to see her body."
Nigeria Overview | FindTheData
Buhari, who was not president at the time of the kidnappings, ran a presidential campaign that focused largely on national security. Since becoming president, he has reshuffled the country's military leadership and has intensified a campaign against insurgents in the northeast. Last December, he said the extremists were "technically" defeated, despite continued attacks.
That he has failed to locate and return the missing schoolgirls may be hurting his presidency. Bring Back Our Girls has continued to stage regular peaceful protests in Abuja, the country's capital.
"The investigation will seek to, among other things, unravel the remote and immediate circumstances leading to the kidnap of the girls by Boko Haram terrorists as well the other events, actions and inactions that followed the incident," Buhari's statement said.
Boko Haram seeks to drive out the Nigerian government from northeast Nigeria, a predominantly Muslim region, and establish in its place an Islamic state. Abubakar Shekau, the group's leader, has pledged allegiance to the Islamic State group, aka ISIS, operating out of Iraq and Syria.
© Copyright IBTimes 2023. All rights reserved.