Nigerian President Buhari Plagiarizes Obama In Speech About Honesty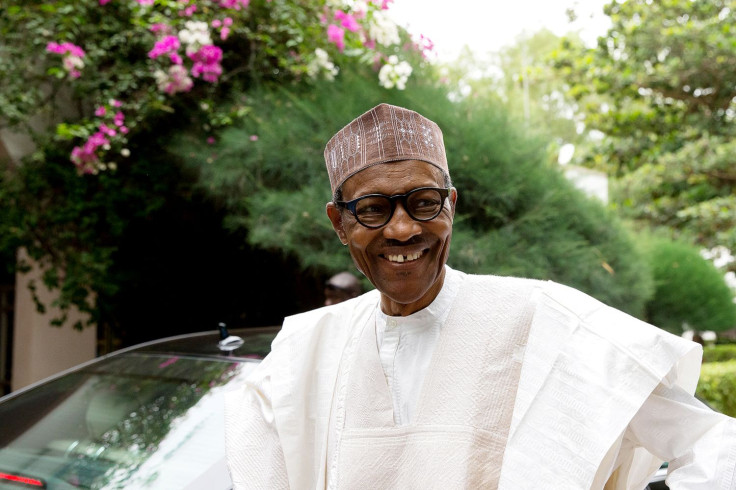 Nigerian President Muhammadu Buhari has been accused of plagiarizing a speech from U.S. President Barack Obama at an event aimed at ending "dishonesty, indolence, unbridled corruption and widespread impunity" in Nigeria. Buhari, who was elected on an anti-corruption campaign in 2015, was accused of stealing Obama's words by Nigerian newspapers after he used similar words from the U.S. president when launching his new "Change Begins With Me" campaign.
"We must resist the temptation to fall back on the same partisanship, pettiness and immaturity that have poisoned our country for so long. Let us summon a new spirit of responsibility, spirit of service, of patriotism and sacrifice, let us all resolve to pitch in and work hard and look after, not only ourselves but one another," Buhari said when announcing his new so-called "reorientation" campaign in the capital city of Abuja on Sept. 8. "What the current problem has taught us is that we cannot have a thriving army of rent seekers and vested interests, while the majority suffers." A transcript of Obama's speech can be found here.
Adeola Akinremi, a columnist with Lagos-based THISDAY Newspaper, said the speech mirrored remarks from Obama's victory speech when he was first elected in 2008. "Let's resist the temptation to fall back on the same partisanship and pettiness and immaturity that has poisoned our politics for so long," Obama said at the time. "So let us summon a new spirit of patriotism, of responsibility, where each of us resolves to pitch in and work harder and look after not only ourselves but each other. Let us remember that, if this financial crisis taught us anything, it's that we cannot have a thriving Wall Street while Main Street suffers."
Akinremi called Buhari "unethical," especially given the focus of his presidential campaign. "It is immoral to plagiarize other people's work, but even worse to use dishonesty to launch a campaign about honesty," he said. "When you use another person's work without acknowledgement, you have plagiarized. You simply pretend as if it is your own. It is unethical. It makes a mess of the campaign from the start. That is what Buhari has done, nobody will believe in the 'change begins with me' campaign, because it was built on lies."
Muhammadu Buhari | InsideGov
Presidential spokesperson Garba Shehu told local reporters that officials were investigating the accusation.
This isn't the first time politicians have been accused of stealing words from the Obama family. During the Republican National Convention's opening night in July, Melania Trump, the wife of Republican nominee Donald Trump, was accused by the press of plagiarizing first lady Michelle Obama.
Barack Obama has also faced down accusations of plagiarism in the past. In 2008, he was accused of borrowing from a speech from his longtime friend, then Massachusetts Gov. Deval Patrick.
© Copyright IBTimes 2023. All rights reserved.
FOLLOW MORE IBT NEWS ON THE BELOW CHANNELS