Nina Vs. Siri: Where Nuance Beats Apple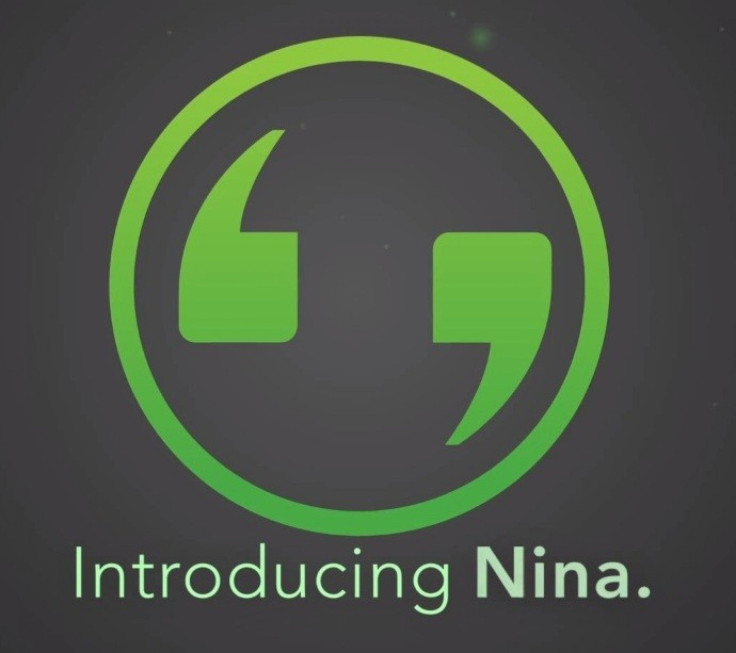 Quick, think of a virtual personal assistant off the top of your head. You probably thought Siri, right? It'd be no surprise -- after all, Siri is in the headline of this article -- but Apple's AI assistant has been popular since her unveiling last October as a key feature of the iPhone 4S.
Siri's reputation is well-earned: Siri can send texts and emails, set alarms and reminders, surf the Web, ask questions, place calls, play music, and get directions. But would you trust Siri, or any of her similar rivals out there for Android, to pay your bank bill? Or report a lost card? Or set up an auto-payments for your bills? But even if you wanted to do these things, how does Siri even know you are who you say you are?
Nuance has clearly thought about what's missing from the voice recognition department, and unveiled its own solution on Monday, called "Nina." The Nuance Interactive Natural Assistant, or NINA, hopes to appeal to professional users that need an intelligent virtual personal assistant to not only answer questions and send texts, but to get things done.
"The next big thing from Nuance is here and it will change the face of mobile customer service forever," the company said in an introductory video.
Nina, like Siri, is based in the cloud, but unlike Apple's exclusive AI, Nina can be enabled in most business and enterprise applications thanks to an open SDK for iOS and Android and a set of APIs that use Nina to help make application software easier to use. Nuance calls Nina "a watershed of firsts for virtual assistants," mainly because she is the "first [VA] to understand what is said and who said it."
"Nina knows you. She knows your voice. She also understands want you want based on your natural phrasing of your request," Nuance says on its website. "Nina streamlines logging in, finding features in the app, asking questions and performing transactions using the power of talking, texting or tapping-making mobile interactions easier, more productive and enjoyable."
Like Siri, Nina can perform contextual dialogue with its user, but unlike Siri, Nina can have "continued conversations with multi-turn and contextual dialogs," which makes her a worthy customer service assistant more so than Siri.
"She's all business," Nuance says in its video. "Your business. Your brand. Your voice. She's a banking assistant, travel assistant, investment assistant, hotel booking assistant. The possibilities are endless."
AllThingsD was able to get an early demo of the new Siri competitor last week. Here's what Arik Hesseldahl had to say about Nina:
"It basically brings together what Nuance does well: Speech recognition, text-to-speech, natural-language understanding and voice-ID biometric technology," Hesseldahl said. "It has rolled all of these into a hosted, cloud-based service that can be used by banks, insurance companies and other business who make customer service and account-access applications, which can now add all these features into their applications.
"If you can use Siri, then you'll know what to do with Nina-enabled applications. You'll be able to use it to pay bills, transfer money between accounts, and other basic things like that."
Hesseldahl noted a key feature of Nina during his time with the software.
"Here's a key feature you might not expect: Nina can also use your voice to authenticate you," Hesseldahl said. "As part of our demo, we handed the phone around the room and tried to sign in to the demonstration banking app - only one of us could. If nothing else, adding a voice-based biometric option to banking apps would seem to improve the security of a mobile banking app, if only because sufficiently complicated passwords are hard to remember."
Nuance hopes to beat out Siri in the business and customer service realm, and the company has already reached out to several companies that build travel, retail, insurance and government applications to use Nina in their applications. Already, Nuance has seen financial services company USAA sign on to use Nina in an effort to facilitate transactions with the company's primary customers, which are veterans and U.S. military service members.
Nuance may not have the name recognition that Apple has, but among professional users of voice software, Nuance is at the very top. Nina may not be used any more than Siri by the lay-crowd, but business and customer service professionals will absolutely feel more comfortable leaving their businesses in the hands of Nina. Siri is good friend, but Nina is a true assistant.
© Copyright IBTimes 2023. All rights reserved.
FOLLOW MORE IBT NEWS ON THE BELOW CHANNELS