Siri Chats Up Martin Scorcese: 30 Celebrities That Need Their Own Apple iPhone Commercials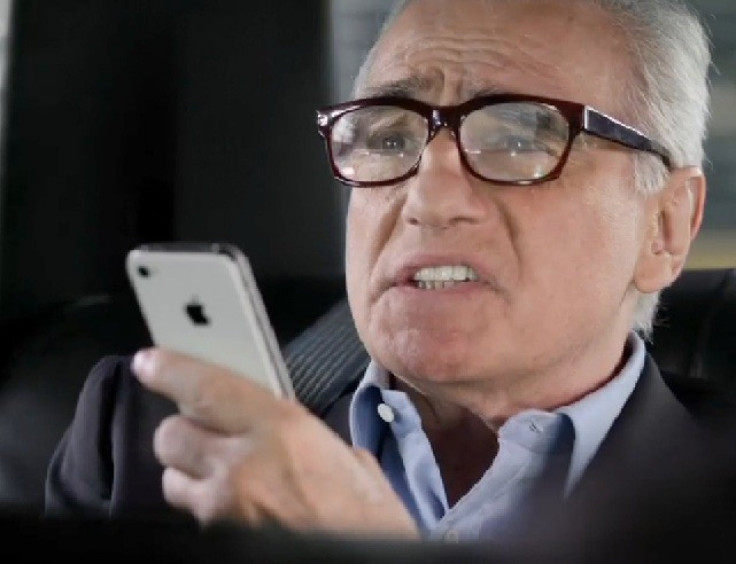 Martin Scorcese has directed, produced, and written many stories and films set in New York City; while the Oscar-winning director is typically behind the camera, his latest story actually stars the 69-year-old Queens native sitting in the back of a yellow taxi cab, chatting away with his new assistant, Siri.
On Monday, Apple released its newest commercial for the iPhone 4S -- the first smartphone to feature Apple's AI assistant -- with Scorcese as the company's latest commercial star.
Scorcese is just the third Hollywood-style spokesman Apple has chosen to promote the iPhone 4S. The Cupertino, Calif.-based computer company had previously filmed iPhone 4S ads with actors Samuel L. Jackson, John Malkovich, and Zooey Deschanel. Deschanel's commercial dreamed up a rainy day scenario to let Siri have some fun, Jackson used Siri to help put together an impressive dinner for Date Night, and Malkovich poked and prodded at Siri, asking it for jokes, weather, and even challenging his virtual assistant to answer one of the greatest questions of all: What's the meaning of life?
The title of Scorcese's Siri commercial is called, Busy Day. Scorcese checks his calendar using Siri only to find out he's going to have another very long day, so he uses Siri to quickly shuffle around some meetings to free up his day. Scorcese also thinks he sees his friend Rick, but Siri tells him that it can't be Rick, due to his location on Find My Friends. Scorcese then uses Siri to help his driver find a faster route to get downtown.
If Apple plans to do more commericals with these Hollywood types, we've got a few great ideas on who should be picked next, and why.
In no particular order:
1. James Earl Jones. How can you have a Siri commercial without the master of voice acting himself, Darth Vader a.k.a. Mufasa a.k.a. This Is CNN.
2. Jonah Hill. The last five years have proven that Jonah Hill has unlimited appeal and immense comic timing. Get this guy in a room with Siri, now.
3. Zeddie Little, a.k.a. Ridiculously Photogenic Guy. This could be really fun, especially once iOS 6 comes out with all of its call features. Little, dubbed RPG after a random photo of him running a marathon went viral on the Internet, could use Siri to deal with several incoming phone calls at once, asking Siri to remind him to call several girls back later, and even ask Siri for some good trails in Central Park (yes, that will be in iOS 6's new Maps). He can even use Siri to shuffle around his dates, or to text girls back on his jog (like in the original Siri commercials).
4. Tom Hanks. In the world of recognizable actor voices, Hanks is right up there with the best of them. It'd be even better if you could pair him with...
5. Tim Allen. Put these two actors together, remove their Toy Story personas and let them a three-way conversation with Siri. Instant. Classic.
6. Diane Keaton. I have a question for you, Apple: Do you want the elderly to buy your iPhone 4S? Do you? Then use Diane Keaton. She is catnip for old people.
7. Dev Patel. Apple needs some foreign stars, and Patel hits several demographics at once: He's young, he's British, he's Indian, he's attractive, he's in an Academy Award-winning movie, and more importantly, he's a good guy.
8. Ian McKellen. I just want to hear Siri say, I'm sorry Ian, you cannot pass. Would you like me to find another route?
9. Carrie Prejean, a.k.a. Miss California USA 2009. I'd really like to see Siri teach useful Wolfram Alpha facts to children. But since no good child actors are left (Jonathan Lipnicky was the last one), the next best thing we can do is have Siri impart knowledge to someone with the mind of a child. A gorgeous face would also be nice; a pretty imbecile is ideal. Prejean fits the bill pretty well here.
10. Bill Nye the Science Guy. Because science rules.
11. Steve Carell. With his likeability factor, a commercial with Carell could be a good opportunity to have Siri insult someone. Carell would play it off well.
12. Steve Martin. Once iOS 6 is released this fall, Martin could ask Siri to help him launch an application like Garageband, where he and his country band, the Steep Canyon Rangers, could play banjos and different instruments on their respective devices. Martin has one of the best funnybones in the business, but his musical talent could really shine through with Siri's help.
13. Will Smith. C'mon, the guy's rich, not untouchable! Let him bring his kids onto the shoot, Jada even. Just make it happen, Apple. The world loves this guy.
14. Penelope Cruz. Apple's going to need some star power when iOS 6 goes live this fall, especially since Siri will be able to support many more languages, including Spanish. There may not be a more beautiful sight than watching Penelope Cruz speak in her native Spanish, and Siri would be the perfect foil.
15. Morgan Freeman. Because we all want to buy products directly endorsed by God.
16. The Avengers (Robert Downey Jr., Chris Evans, Chris Hemsworth, Mark Ruffalo, Scarlett Johansson, Jeremy Renner, and Sam Jackson -- again). Apple may be the only other company that could afford to pull in this kind of star power into a single commercial. Get Joss Whedon to write the dialogue.
17. Stone Phillips. Because listening to him speak is weirdly addictive.
18. Bryan Cranston. I always buy what Bryan Cranston is selling, if you catch my drift. (Note: I don't do crystal meth.)
19. Christian Bale as Batman. Chris Nolan's Dark Knight trilogy may be over, but Bale doesn't have to throw away the mask and cape. Instead, we could see Bale on the roof as Batman, but the antenna in his suit that connects to Alfred doesn't work. At that point, the World's Greatest Detective could whip out his iPhone 4S and start asking for information about the area, ask about locations nearby, as well as information about public figures of interest. Who is Pamela Isley?
20. Coldplay. Apple made its name off music (see: iTunes, iPod), and it needs more music groups to get behind the iPhone. Since U2 was already tapped for iPod, Cook could reach out to Coldplay again, who played at Steve Jobs' memorial in Cupertino on a moment's notice, to return for a new commercial. The band could be sitting around with Siri, dictating song lyrics or asking Siri deep questions that only musicians like Coldplay could ask.
21. Chewbacca. Siri: What's that? I didn't hear that. Chewbacca: PHHHHRRRRRRRRRRR. What's that? I didn't hear that. Chewbacca: PHHHRRRRRRRRRRRR. Siri: Okay, Here are the directions to the ship. Chewbacca: PHHHHRRRRRRRRRRR. Siri: I love you too, Chewy.
22. LeBron James. I really want to see LeBron asking Siri a ton of different questions while running down the court full speed and dunking on other players at the same time. He can do it. He's that good.
23. John Mayer. Steve Jobs was a big believer in John Mayer's talent, but establishing a greater connection between Mayer and Apple would be beneficial for both brands, methinks. Mayer could ask Siri where the nearest tattoo parlor is, and ask Siri to play some of his favorite guitar riffs for inspiration.
24. J.K. Rowling. She may be the only recognizable book author out there, but print authors need greater exposure. Rowling could ask Siri for local bookstores, ask her about who wrote various books, and help direct her through traffic to get to her next book signing.
25. Jeremy Lin. There may be no better sports story in recent years than Jeremy Lin's sudden and unexpected rise to stardom as a rookie coming off the bench for the New York Knicks. Now in Houston, the humble basketball player from Harvard can ask for directions around Houston, find hotels or friends' apartments for him to crash, and even help him find his way around the new stadium.
26. Brad Pitt and Angelina Jolie. It doesn't get any more Hollywood than Brangelina. Put the two most attractive actors on the couch, put their children between them, and give Jolie an iPhone. Let her put on some music, ask about local restaurants nearby, and remind her to punch Brad later for making a bad joke.
27. Hugh Hefner. I want to see Hugh Hefner's Night Off. Apple could make a hilarious commercial, letting the Playboy mogul ask Siri plenty of questions about actors, actresses and sports games, but in a lounge by himself. The audience never gets to see any of the Bunnies. Just Hugh and Siri. Now that's class.
28. Bobby Flay. I want to see Iron Chef Bobby Flay go get the ingredients for his restaurant each morning. I want to see him ask Siri for directions to the nearest fish market in the Lower East Side, and I want him to walk in the Farmer's Market and ask Siri for more information about a foreign-sounding fruit. Once Bobby's back in his crowded kitchen at rush hour, he can use Siri to set a timer on the oven.
29. Quentin Tarantino. One of the most beloved directors in cinema, QT could get into one of his famous philosophical talks with Siri, but she could continually keep saying, I'm not sure what you mean. And that would make QT explain it even more. Siri could just say Go on, and let the fast-talking film buff do his thing.
30. Jon Hamm. Because nobody can say no to Jon Hamm's face.
Nobody.
FOLLOW MORE IBT NEWS ON THE BELOW CHANNELS