Nine Drown in Moscow River Boat Accident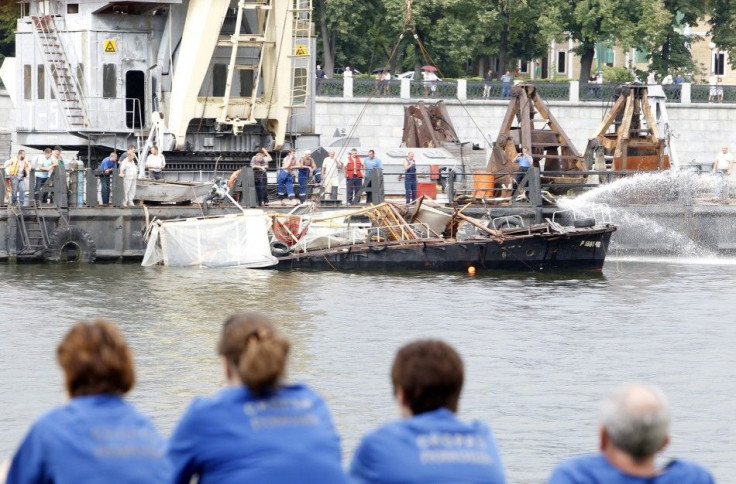 A boat crash in Moscow left nine people dead early Sunday morning. An overloaded pleasure boat carrying 16 people sunk when it collided with a cargo barge around 1:30 a.m. on the Moscow River. The motorboat called the "Lastochka" -- or the "Swallow" -- was hosting a birthday party when it went down.
Six passengers managed to swim to safety, but nine drowned, including the boat's captain.
The incident comes just three weeks after the cruise ship Bulgaria sank on the Volga River, killing 122 people. In what was the worst boat accident in post-Soviet era Russia, the wreck of the 55 year-old vessel is being blamed on outdated equipment and criminal negligence. The Bulgaria, which President Dmitri Medvedev called a "rust tub," hadn't been overhauled for 30 years, nor had it been properly inspected before setting sail .
On Sunday, police launched a criminal investigation into the Moscow River incident.
"Three scenarios are being examined," said Oleg Tushmanov, head of Moscow's Investigation Committee for Transport. "The failure of one or the other vessels -- that is to say, an equipment malfunction. There is then the so-called human factor -- that is to say, an infringement of the regulations for river transport by the captain of the barge or the boat. Or else there was a technical failure."
Authorities have already found that the boat was only licensed to carry 12 people, and was recklessly speeding at the time of the collision.
RIA Novosti reported that the Swallow's captain was sober.
The boat's owner also died in the accident. Gennadi Zinger frequently violated boat safety regulations, according to The Voice of Russia, operating his business at night to avoid inspectors.
The abundance of these tragic accidents illuminates a problem that has bedeviled Russia since the collapse of the Soviet Union. Privately-held tourism companies, including airlines and cruise liners, often sacrifice safety for profit, snatching up the cheapest vessels and over-filling them with eager vacationers.
Medvedev and Prime Minister Vladimir Putin initiated widespread probes of the country's regulatory and inspection system after the Volga River accident, and are frantically trying to hold people accountable for the disaster.
So far, two people have been arrested over the Bulgaria sinking. Russian river fleet regulator Yakov Ivashov and Svetlana Inyakina, general director of Argorechtur, the cruise company, are both being charged with negligence and face up to ten years in prison.
© Copyright IBTimes 2023. All rights reserved.