Nissan, Mercedes-Benz Top Carmakers Most Linked With Autonomous Driving Technology; But Google Leads All, Including General Motors (GM), Ford (F)
But Nissan Is In Second Place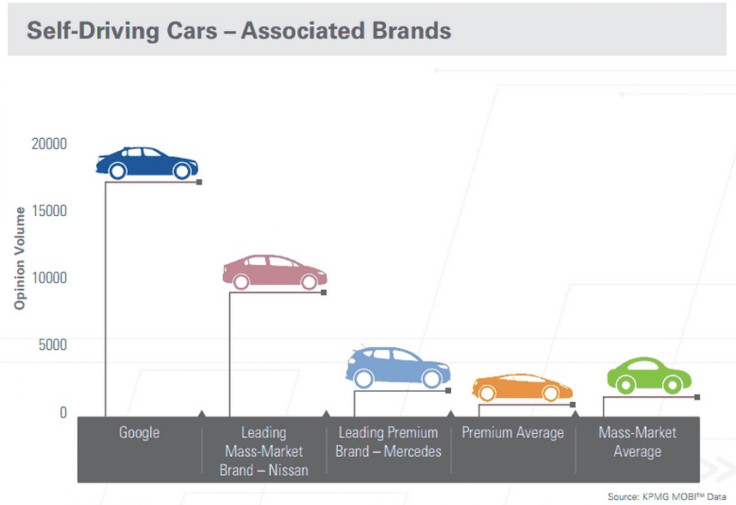 Autonomous vehicle technology is here to stay in one form or another, and according to a recent survey, U.S. automakers are falling behind their competitors in the race to mass market a self-driving car.
While Nissan Motor Co., Ltd. (TYO:7201) and Daimler AG (FRA:DAI) are the top auto brands most associated with autonomous driving technology, consumers appear to rank Google Inc. (NASDAQ:GOOG) far above all auto companies, and way ahead of General Motors Company (NYSE:GM) and Ford Motor Company (NYSE:F).
"We believe that self-driving cars will be profoundly disruptive to the traditional automotive ecosystem," said Gary Silberg, the chief author of the report, which was written by global advisory firm KPMG LLP.
The study, which surveyed drivers in Los Angeles, Chicago and Iselin, New Jersey, suggests that Nissan -- which pledged in August to launch an affordable self-driving car in six years -- is the auto brand most associated with self-driving technology.
Earlier this month, Nissan offered a sneak peek at a self-driving all-electric Leaf mini loaded with laser sensors, cameras, and radars that can identify objects up to 200 meters away in front of or behind the car, and up to 80 meters on both sides -- which is adequate for a car designed to drive at low speeds in a traffic-congested urban environment.
Leading the pack among luxury brands is Daimler's Mercedes-Benz; Audi, which is owned by Volkswagen AG (FRA:VOW3); and BMW, or Bayerische Motoren Werke AG (FRA:BMW), in third. Cadillac, GM's luxury brand, will release semi-autonomous systems in the coming years, too.

Basically, the survey found two main consumer details. First, passionate drivers are less interested in a car that drives itself than other drivers, and second, overall interest in the technology is growing, even though safety and liability concerns still have to be addressed.
© Copyright IBTimes 2023. All rights reserved.