North Carolina Election Law Trial Begins As Voting Rights Groups Question Alleged Discrimination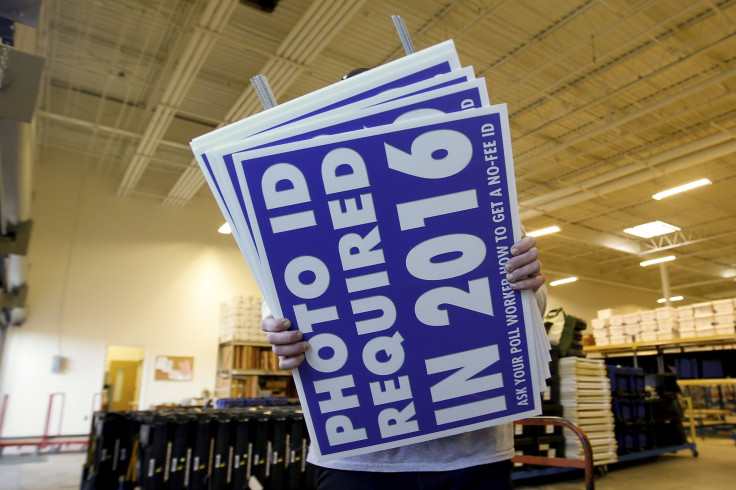 A federal district court in Winston-Salem, North Carolina, will hear the first arguments Monday in a trial to determine the constitutionality of changes made in 2013 to the state's election laws. Critics argued that laws requiring voters to present photo identification -- adopted in North Carolina and other Southern states -- were attempts to discriminate against blacks and other minority voters.
Aside from the state's photo identification requirement, the district court is expected to determine the legality of North Carolina's restrictions on same-day voter registration and ballots cast outside the voter's normal precinct, Reuters reports. The NAACP's North Carolina chapter, one of the plaintiffs in North Carolina NAACP v. McCrory, argued the 2013 election law changes unfairly targeted black voters, who rely on same-day registration at roughly twice the rate of the state's white voters.
"The outcome of this historic case in North Carolina will have an impact on voting rights across the nation," the NAACP said in a statement, alongside a notice for a planned march through Winston-Salem to raise awareness of the issue. Hundreds of people attended church services in Winston-Salem ahead of the march, the Winston-Salem Journal reported. "This is our Selma," the organization added, in reference to a 1965 civil rights march in Alabama.
North Carolina enacted the election law changes after the U.S. Supreme Court removed an element of the 1965 Voting Rights Act that called for states with a discriminatory past to apply for federal approval before making any changes to their voting procedures. Republicans in Florida and Texas backed similar voter registration changes in recent years, despite criticism.
The Justice Department is set to ask the court to once again force North Carolina to seek federal approval for election law changes, the New York Times reported. State officials asserted the changes were meant to ensure a fair electoral process, not to discriminate against any group of voters. North Carolina's Attorney General Roy Cooper said the challenge was "the equivalent of election law affirmative action" and suggested plaintiffs were arguing for measures aimed at "maximizing Democratic turnout."
Critics have applied similar scrutiny to a Texas law that required voters to present photo identification. Texas' GOP officials have insisted the measure was designed to prevent voter fraud.
"As I go through TSA to fly from here to New Hampshire in the morning, they're going to want to see my photo ID. And I think if it's important enough for the federal government to require a photo ID, that to protect that precious right of voting and to make sure that it is not fraudulently used, then I think that's quite alright," Rick Perry, a former Texas governor and a 2016 Republican presidential candidate, told the San Antonio Express-News earlier this month.
Aside from its own restrictions on voter registration, Florida has drawn criticism for its purported use of gerrymandering, or changes to district boundaries designed to favor a specific political party. Earlier this month, Florida's Supreme Court accused legislative officials from "unconstitutional intent to favor the Republican Party" and ordered questionable district lines redrawn, Reuters reported.
© Copyright IBTimes 2023. All rights reserved.
FOLLOW MORE IBT NEWS ON THE BELOW CHANNELS