North Korea Releases Donald Trump Stamps Even As It Fires Off Rockets        
North Korea is well known for firing off rockets, showing off its latest military equipment, prisons where entire generations of families may be put for the "crimes" of one person and other human rights abuses. The latest addition to that list may be stamps the country has now issued featuring, U.S. President Donald J. Trump and Korean Supreme Leader Kim Jong Un.
The "Trump Stamps" are most likely a propaganda stunt aimed at showing Kim as a "world leader" with powers the equal of his American contemporary. The latest in a series of stamps feature Trump and Kim standing in the demilitarized zone (DMZ) between North and South Korea during the U.S. president's "spontaneous meeting" with Kim Jong-un earlier this year, according to NK News, a news website based in the U.S.
An earlier stamp is to commemorate the 2018 Singapore Summit. The two leaders signed a joint statement that included agreements on North Korea's nuclear program, the recovery and repatriation of soldiers' remains, and an agreement to build a "lasting and stable" peace on the Korean peninsula.
Notably missing from the philatelic event was South Korea President Moon Jae-in who was present at the later meeting at the DMZ. It is not known if President Trump had any knowledge about the stamps' release.
The timing of the Trump stamps release is raising some eyebrows as it comes when North Korea, under the supervision of Kim, held another weapons test to strengthen the ability of the country to strike targets that include U.S. military bases in South Korea. Pyongyang's official Korean Central News Agency got around to reporting the tests only after the firings were detected by the South Korean military.
Proposed talks stemming from the 2018 Singapore agreement have stalled and this, along with planned joint U.S.–South Korea military exercises, has triggered objections from North Korea. Pyongyang has called the joint exercises a preparation for an invasion.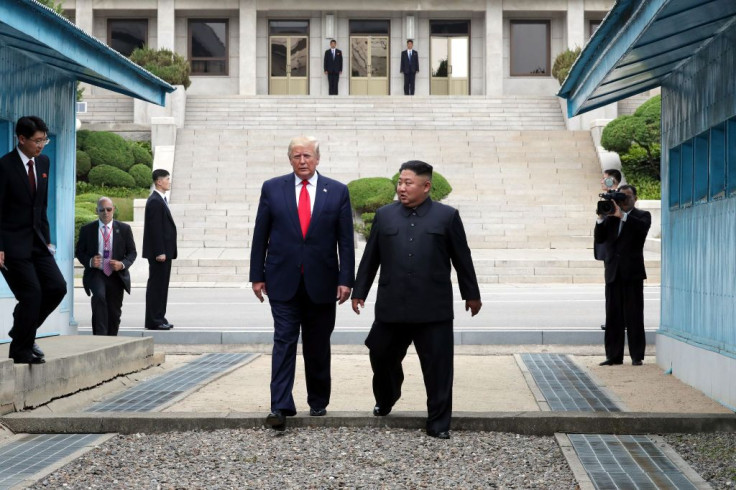 Media from the region reported that Kim was satisfied with the recent tests and has claimed that it verifies the system's "altitude control level flight performance, track changing capability, accuracy of hitting a target and warhead explosion power of the guided ordnance rocket."
President Trump seemed to downplay the tests and even complimented Kim about his "great and beautiful" vision for the country and insisted they would have no effect on his ongoing conversations with Kim. Trump said, "I think it's very much under control, very much under control" to the White House press and added "We never made an agreement on that. I have no problem. We'll see what happens. But these are short-range missiles. They are very standard."
© Copyright IBTimes 2023. All rights reserved.
FOLLOW MORE IBT NEWS ON THE BELOW CHANNELS