North Pole's Winter Temperatures Rise Above Freezing As 'Freak' Heat Wave Hits Arctic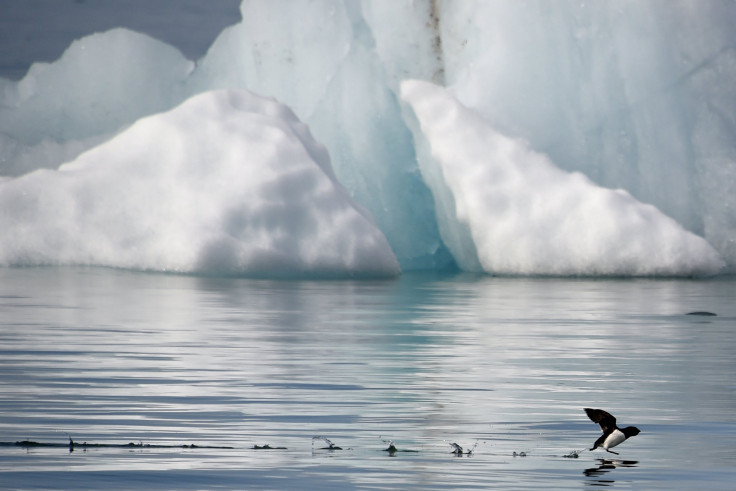 On Wednesday, Santa's elves imaginably got a taste of the bizarre weather that the world's been gripped with over the past few weeks. In the middle of what should normally be a harsh winter, temperatures at the North Pole rose above freezing — nearly 20 degrees Celsius (36 degrees Fahrenheit) above normal for the season.
According to the National Oceanic and Atmospheric Administration (NOAA) and Canadian weather authorities, the direct cause of this unprecedented heatwave was the "freak" depression that brought record-high Christmas temperatures in North America, and torrential rains and floods in the U.K. As this storm continues to move north, riding on the jet stream, it is forcing warm air over the Arctic Circle, causing temperatures there to soar.
According to NOAA's Ocean Prediction Center, the "bomb" cyclone led to a pressure drop of 54 millibars in a span of just 18 hours, putting the storm's minimum pressure at 928 millbars — which would make it one of the strongest storms in the region.
"It's a very violent and extremely powerful depression, so it's not surprising that hot temperatures have been pushed so far north," Nathalie Hasell, a Canadian government meteorologist, told AFP. "This deep depression has pushed hot air as far as the North Pole, where temperatures are at least 20 degrees above normal, at around freezing point, between zero and two degrees."
James Morison, a senior researcher cited by the Agence France-Presse (AFP) said that an Arctic monitoring point 300 kilometres (186 miles) from the Pole, which had been recording -37 degrees Celsius (-34.6 degrees Fahrenheit) Monday, shot up to -8 degrees Celsius (17.6 degrees Fahrenheit) Wednesday.
If nothing else, 2015 may well be remembered for its series of extreme weather events, triggered at least in part by the El Niño weather phenomenon — wherein warm waters of the central Pacific expand eastwards toward the Americas. El Niño has also been cited as a factor in the devastating storms — Eva, Desmond and Frank — that have hit the northern U.K.
However, the spike in winter temperatures in the North Pole, even if it's short-lived, is much more alarming, as it could interfere with the usual process of the growth of winter ice in the Arctic — a region that is already warming faster than the global average — and speed up the unrelenting rise in global temperatures.
© Copyright IBTimes 2022. All rights reserved.
FOLLOW MORE IBT NEWS ON THE BELOW CHANNELS