Number of Russian Troops Killed in Ukraine Accidentally Published Online By Russia?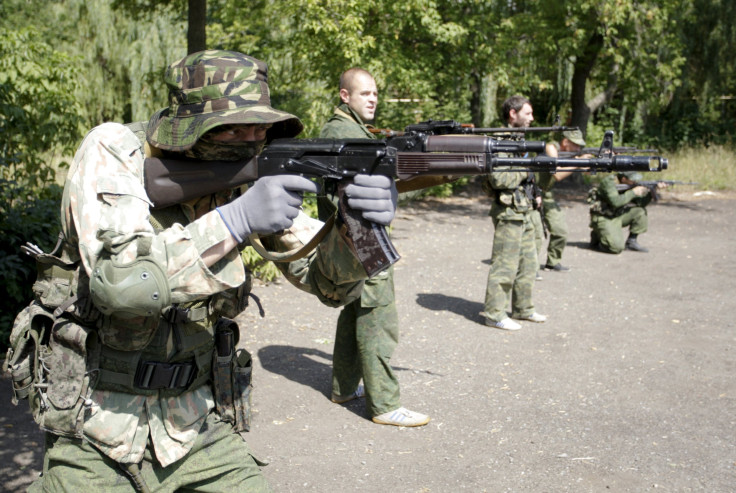 A Russian website published and then quickly removed what initially seemed like a mundane article this week titled "Increases in Pay for Military in 2015." The reason for the sudden removal was what appears to be the accidental publication of secret figures on the numbers of deaths and injuries sustained by Russian soldiers fighting in eastern Ukraine.
In the article published by finance-focused site Business Life, or Delovaya Zhizn in Russian, it was revealed that as of Feb. 1, the Russian government paid compensation to more than 2,000 families who had lost soldiers and to 3,200 military members who were injured, Forbes reported. The article also stated compensation numbers for families and personnel at around $50,000 for those killed and $25,000 for those who are now invalids. The content detailing Russia's direct participation in Ukraine was quickly removed by Russian censors, but was archived by a Ukrainian news site, Novy Region.
It's impossible to confirm the leaked figures because the Russian government continues to firmly maintain it has not sent troops or military equipment to eastern Ukraine. The conflict there between Ukrainian government forces and so-called separatists, often described as being backed and funded by Russia, has claimed the lives of more than 6,400 people and displaced more than 1.4 million, according to figures from the United Nations. A peace agreement signed in February has failed to halt the conflict.
Initially, Russian President Vladimir Putin denied that Russian troops, nicknamed "little green men" for their unmarked uniforms, participated in the annexation of Crimea. But almost a year after the March 2014 annexation, Putin admitted in a Russian documentary to sending Russian troops into the peninsula. Putin maintains that any Russians fighting in Ukraine are there of their own volition and have traveled there while on vacation from the military.
But evidence of Russia's direct participation has mounted for months. The Ukrainian government alleges more than 10,000 Russian troops have fought in Ukraine, including in key moments such as the large-scale fight that took place in Debaltseve in January. Reporters from the BBC who were investigating the mysterious burials of Russian soldiers in Russia were attacked in August 2014 while reporting.
© Copyright IBTimes 2023. All rights reserved.