'Nut Rage' Trial: Korean Air Lines Heiress Cho Hyun-ah Treated Crew 'Like Feudal Slaves'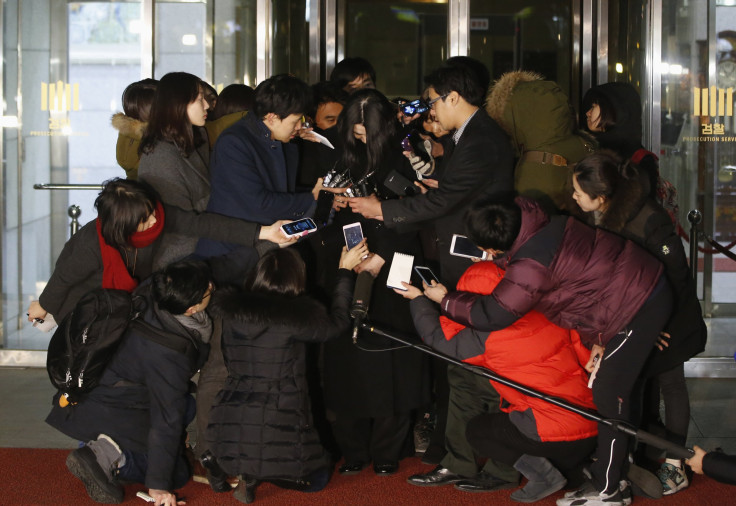 Cho Hyun-ah, the daughter of the Korean Air Lines chairman, treated flight crew like "feudal slaves," a chief steward told a court during the "nut rage" trial on Monday, according to Reuters. Cho has been charged with violating aviation safety law over a bag of improperly served macadamia nuts.
Cho Yang-ho's daughter, who headed the airline's in-flight service division before the Dec. 5 incident, is on trial for violating aviation safety regulations and plotting with other company executives to force crew members to lie about the incident, which followed the heiress being served nuts in a bag rather than on a plate by a first-class cabin flight attendant. She reportedly demanded that the chief steward Park Chang-jin be removed from the flight, which was bound for Incheon, South Korea, from New York's John F. Kennedy airport.
Cho "was like a beast that found its prey gritting its teeth as she became abusive, not listening to what I had to say at all," Park said, according to Reuters. "I don't think Cho showed an ounce of conscience, treating powerless people like myself like feudal slaves, forcing us to sacrifice and treating it as if it was the natural thing to do."
Cho reportedly told the Seoul court that her behavior was "wrong" but she believes that the cabin crew did not follow proper procedures. The 40-year-old could face up to 15 years in jail for all the charges against her, which include hindering a government investigation. Cho, who also goes by the name Heather, resigned from her position in the company following the incident and publicly apologized. A prosecutor previously said that her actions were "threatening the safety of the flight and causing confusion in law and order."
Park reportedly appeared in the court Monday after resuming work over the weekend after a leave of absence. Four South Korean officials were found guilty of improper conduct during investigations into the case.
© Copyright IBTimes 2023. All rights reserved.