At NYC Vigil For Former Libya Ambassador Stevens, A Syrian Flag And A Muslim Cause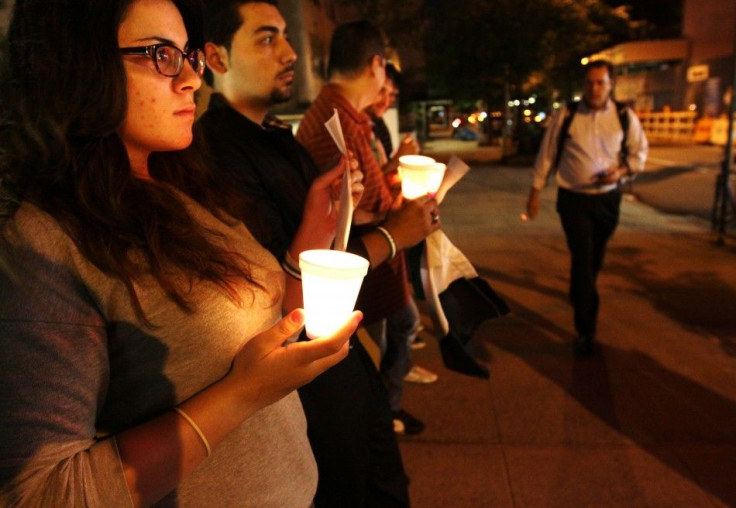 A group of Arab Americans gathered for an emergency vigil on Thursday for U.S. Ambassador to Libya Christopher Stevens, who lost his life in a violent attack on the U.S. Consulate in Benghazi on Tuesday.
The demonstrators lit candles and lined up on the sidewalk at 48th Street in New York City, in front of the Libyan Mission to the United Nations.
Libya's new flag was flying beside the mission building, and some vigil attendees said this was the first time they had seen the revolutionary banner in an official capacity. They carried flags of their own -- but not the Libyan one. Instead, they waved the Syrian revolutionary pennant: three stripes of green, white and black, with three red stars.
Of the dozen or so who gathered in front of the Libyan embassy on Thursday evening, all were of Syrian background.
Two Syrian-American friends greeted each other as the small crowd began to gather. "All Syrians here!" said one with a laugh. "Where are the Libyans?"
"Ana libi... ana arabi!" said the other -- I am Libyan; I am Arab.
That was a shared sentiment among the demonstrators on 48th street, many of whom said the violence in Benghazi is a universal issue because it threatens to color American perceptions of Islam.
"I think this shows unity, and that's good," said Hala Alhosh, 18. She held a red candle in one hand and a photo of Stevens in the other. "It's not just a Libyan thing; it's a Muslim thing. I think we are misunderstood. I want people to know that we think the violence that happened there was wrong."
It's not that Libyan Americans weren't bothering to show up -- they simply didn't hear about the gathering in time. Racan Alhosh, 23, explained that he had organized the vigil only a day in advance, using social media.
"I'm actually not connected that well with the Libyan community in New York City. I organized this through my network, and I'm a Syrian," he explained.
Alhosh was happy to see a turnout for the vigil on such short notice; he noted the importance of paying respect to Ambassador Stevens.
"This guy was serving his country. He was innocent; he absolutely did not have to die, and we should always honor these kinds of people," he said. "Unfortunately this atrocity was carried out by someone who claims to be a Muslim, but they absolutely are not, because it's very un-Islamic to take an innocent life."
Across the Atlantic, Libyans are also voicing disapproval of Tuesday's attack, which killed a total of four Americans including the ambassador. Hundreds took to the streets in Benghazi this week, and many carried a copy of the same sign. "Sorry, people of America," it said. "This is not the behavior of our Islam and [prophet]."
But anti-American protests are in full force as well, and not only in Libya. The list of countries where protests erupted this week is a long one: it includes Yemen, Egypt, Tunisia, Iraq, Afghanistan, Kashmir, Malaysia, Pakistan, Sudan, Lebanon and Indonesia.
These demonstrators are reacting to an offensive film that was produced in America, by a man who has taken pains to conceal his identity. A 13-minute trailer of the movie, called "Innocence of Muslims," went viral on YouTube and offended people all around the world. It not only portrayed the prophet Muhammad -- which is blasphemous in and of itself -- it depicted him as a buffoon and insulted nearly every aspect of the religion.
Muslim indignation has been widespread, but only the Libyan protests were violent enough to take the lives of four American diplomats.
But there are major doubts as to whether that incident was sparked by the film. Sources in Libya have suggested that this was a premeditated attack, perpetrated not by average Libyans but by extremists who make up a small minority of the population.
Some have blamed Ansar Al-Sharia, a militant Salafist group that has a presence in Libya and is allegedly linked to al Qaeda. But the organization has denied responsibility, according to AGI.
Investigations into who perpetrated the violence are ongoing. Libyan authorities arrested four people connected to the incident on Thursday, according to CNN, and the United States has deployed troops, warships and surveillance drones to the area.
The United States played a major role in the Libyan revolution last year, which resulted in the ouster of former dictator Moammar Gadhafi in August. American military forces led NATO troops in an aerial mission to stop regime forces as they marched toward Benghazi, which was the essentially the headquarters of the revolution.
Since the overthrow, Libya has been struggling to shore up security as it builds a new government. Stevens was a major part of that process, so his death comes as a major setback.
At the vigil on Thursday, attendees were concerned that the actions of a few still-unidentified extremists might dissuade the United States from promoting democracy all across the Middle East.
"It is important for us to be here because the Americans probably now feel betrayed," said Rami, 27. "We have to assure them that this is not the public opinion of the Arab world. We have a common enemy, and that is the extremist Islam in the Arab world."
As the demonstrators' Syrian flags fluttered on the front steps of the Libyan embassy, the parallels were obvious. Right now in Syria, a revolution is taking place very similar to the one that rocked Libya one year ago.
The vigil attendees spoke frequently about Syria -- some had friends and family members still in the country. There, Syrians opposed to the regime of President Bashar al-Assad have been fighting against government forces for 18 months in an increasingly bloody showdown that has claimed more than 20,000 lives. Although the United States intervened in Libya after a matter of months, it has not done the same for Syrian rebels after more than a year of violence.
The situation is complicated by several factors, including the strength of Assad's military and concerns about the Syrian rebel movement, which is loosely organized and is suspected to include contingents of extremists and Islamist militants.
But vigil organizer Alhosh says the most important goal for most Syrian rebels -- and the United States -- is democracy.
"The Syrian community that supports the Syrian opposition is very much pro-American," he said. "We're looking for America to help us put democracy into our own country. Right now they are supporting us in our revolution to help stop the killing in Syria, and supporting our refugees."
Thursday's vigil for Ambassador Stevens, he added, "is the least we can do to show our appreciation for the American government."
© Copyright IBTimes 2022. All rights reserved.
FOLLOW MORE IBT NEWS ON THE BELOW CHANNELS