Obama Administration's Plan To Expand Oil And Gas Drilling In Gulf of Mexico Draws Protests In New Orleans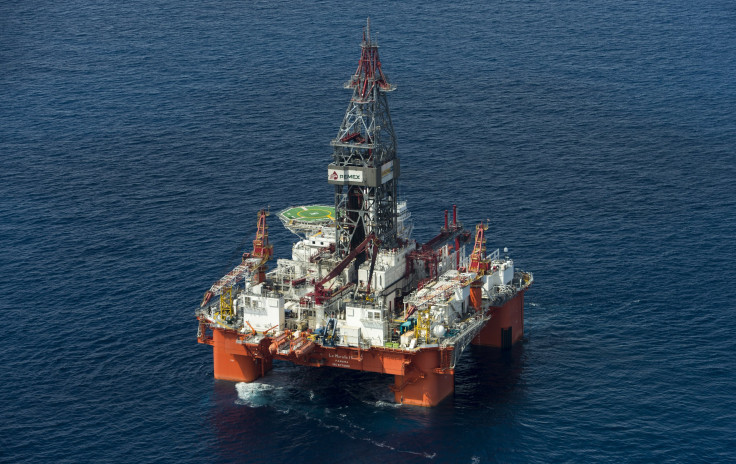 The Obama administration Wednesday opened millions of acres in the Gulf of Mexico for oil and gas drilling at a lease sale in New Orleans, drawing hundreds of protestors from across the Gulf region, who rallied outside and within the event at the Mercedes-Benz Superdome.
Environmental and community activists in the past year have started targeting public lease sales in states like Utah, Colorado and Wyoming — part of their broader campaign to block the extraction of oil, coal and natural gas on federal land and underwater.
"For the Obama administration, the science is crystal clear that they can't meet the [climate] targets they've set if they continue to drill more fossil fuels out of the ground," said Jamie Henn, communications director for 350.org, a prominent climate activist group.
Henn said the location of the lease sale holds a certain irony. Nearly six years ago, the Gulf region was slick with millions of gallons of crude oil after BP's Deepwater Horizon rig exploded off the coast of Louisiana. New Orleans is considered one of the cities most vulnerable to the effects of climate change, which is largely caused by burning fossil fuels. Federal officials are making 45 million acres in the Gulf of Mexico available for private oil and gas exploration and development.
Protesters are now calling for officials to shut down today's federal oil and gas lease sale at the Superdome. pic.twitter.com/bYbWrkCR9k

— Jennifer Larino (@jenlarino) March 23, 2016
The New Orleans event arrived a week after the U.S. Interior Department scrapped a proposal to open the U.S. Atlantic Coast to offshore oil and gas drilling. Secretary of the Interior Sally Jewell said an outpouring of opposition from coastal communities, seafront businesses and environmental groups prompted the decision. A surge in onshore U.S. drilling also reduced the immediate need for Atlantic supplies, she said.
Interior last fall also canned a plan for two Arctic offshore lease sales, citing turbulent oil market conditions and low industry interest. And a handful of state-level auctions were delayed or canceled in the past year following a string of protests outside government offices.
In the latest Gulf of Mexico lease auction, more than two dozen companies submitted 148 bids on blocks stretching across the coasts of Louisiana, Mississippi and Alabama, the Interior's Bureau of Ocean Energy Management (BOEM) said. The planning area includes nearly 8,400 unleased blocks spread over 44.3 million acres. A second planning area, encompassing nearly 600,000 acres between Alabama and Florida, didn't draw any bids.
The sales are the ninth and 10th offshore auctions under the Obama administration's oil and gas leasing program for the 2012-17 period. The first eight auctions offered more than 60 million acres for offshore development and garnered more than $3 billion in bid revenue, according to BOEM.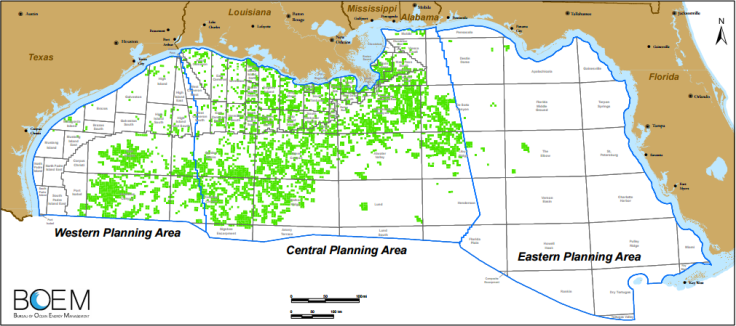 John Filostat, a spokesman for BOEM in the Gulf region, said the bureau conducted a thorough environmental review of the area and individual lease blocks.
"It's part of the administration's commitment to safely and responsibly carry out our congressional mandate to orderly develop the Outer Continental Shelf. We take that responsibility seriously," he said. Filostat acknowledged the protestors, adding that the bureau "will continue to carry out our mission as well."
Proponents of the federal lease sales argue that opening public turf to fossil fuel extraction is vital for ensuring future U.S. energy supplies. Unlike onshore shale oil wells, which dry up in a matter of years, offshore wells can produce oil and gas for substantially longer stretches.
"Having a wide range of geographical sources for energy stabilizes the market and contributes to energy sufficiency," said Nicolette Nye, a spokeswoman for the National Ocean Industries Association, a trade group that supports offshore drilling.
The Gulf of Mexico leases in particular could boost the local energy industry in Louisiana, supporters say. Louisiana is one of the nation's top 10 oil-producing states and home to 19 hulking oil refineries. But it's also facing a nearly $1 billion budget deficit for the next fiscal year, the result of fiscal mismanagement and plunging oil prices, which have drained the state's tax revenue from energy production.
Grow Louisiana Coalition, an oil and gas industry group, said the protests Wednesday ignored the energy sector's outsize role in Louisiana's economy. Oil and gas production, petrochemical manufacturing, pipeline projects and other related fields together created some 1.9 million jobs in 2014, the state Department of Natural Resources estimated.
Marc Ehrhardt, the coalition's executive director, said the demonstrations show "a lack of understanding about what is actually happening in Louisiana and the importance of the industry to the state."
BOEM currently manages roughly 4,400 active leases across 23.4 million acres in the Gulf of Mexico, the majority near the coast of Louisiana. The bureau last week proposed offering 10 new lease sales in the area under its draft five-year plan for the period 2017-22.
US Offshore Gas Production | Graphiq
Oil wells in the Gulf of Mexico averaged 1.54 million barrels of crude a day in 2015, or nearly 16 percent of the total 9.4 million barrels a day produced nationwide, the U.S. Energy Information Administration estimated. Offshore wells near California and Alaska produced a combined 31,000 barrels a day in 2015.
The opponents of offshore drilling say the risks of tapping the ocean floor far outweigh the benefits in energy supplies. They point to the 2010 Deepwater Horizon rig explosion, which killed 11 workers and resulted in the nation's worst environmental disaster. British oil giant BP agreed in October to pay out more than $20 billion to settle claims against it, although the claims don't cover the spill's knock-on economic damages, such as shuttered restaurants and diminished tourism income in Gulf communities.
"New Orleans is ground zero for climate change impacts and the fossil fuel industry," said Virali Modi-Parekh, climate and energy communications manager at the Rainforest Action Network, one of the groups leading the Wednesday protest. "Coastal communities are losing land to rising seas, while others are dealing with refinery pollution, oil spills and a host of environmental and health impacts."
Environmental groups also argue that allowing further fossil fuel development on federal land and water threatens to undermine President Barack Obama's legacy on climate change issues. The president in recent years has enacted a sweep of measures to reduce the nation's greenhouse gas emissions, including the Clean Power Plan to curb electricity emissions and tougher rules on methane, which can leak from oil and gas wells and infrastructure.
Obama in 2014 set a target to reduce U.S. emissions by up to 28 percent below 2005 levels by 2025. At the Paris climate change talks in December, the U.S. joined nearly 200 other nations in a pledge to keep global warming to 2 degrees Celsius (3.6 degrees Fahrenheit) above pre-Industrial Revolution levels.
In his State of the Union address in January, the last of his presidency, Obama said he would push to change the way the government manages oil and coal resources as part of the broader effort to tackle climate change. Days later, he brought a temporary moratorium on new coal-mining leases on federal lands while the administration conducts a three-year review to bring coal leasing in line with U.S. climate policy.
Activists are pushing for a similar delay or ban on public oil and gas lease sales. Henn, the 350.org spokesman, said the New Orleans protest is part of a growing grassroots movement to do just that.
"Our rallying cry is to take on fossil fuel extraction and, in particular, challenge the Obama administration to stop the sale of fossil fuels on our public lands," he said.
© Copyright IBTimes 2023. All rights reserved.