Obama, Advertisers Denounce Rush Limbaugh Slur in Birth Control Debate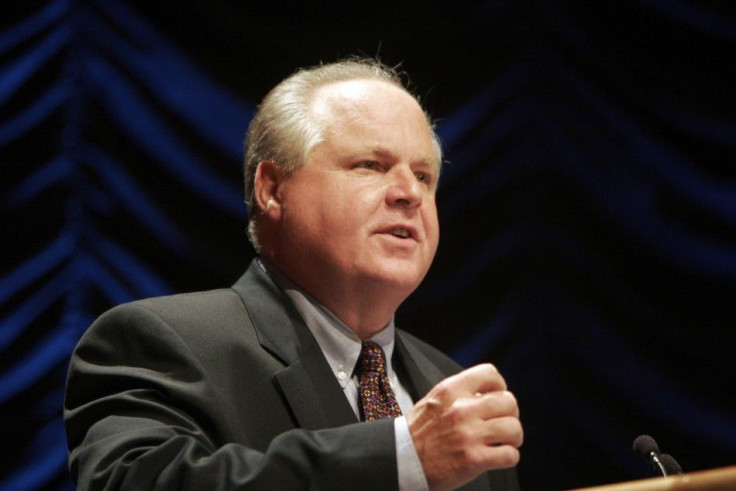 The ostentatious conservative political pundit Rush Limbaugh drew himself further into controversy after calling a law school student a slut and prostitute in the aftermath of her testimony before Congress about the need for birth control coverage.
On Friday, President Barack Obama called Sandra Fluke -- the 30-year-old, third-year Georgetown University law school student who spoke in front of Congress -- to commend her for her willingness to speak out about her cause.
He was so kind, Fluke reportedly said in an interview when asked about her conversation with the president. I was just very impressed by that.
When I said how important this policy was, he sort of wanted to move past that, Fluke said. He wanted to talk about whether or not I was okay.
Fluke has been backed by members of Congress, women's groups, and the administration and faculty at Georgetown University, the Roman Catholic school in Washington she attends, reports the Associated Press.
The fact that our political discourse has become debased in many ways is bad enough, said White House spokesman Jay Carney. It is worse when it's directed at a private citizen who was simply expressing her views.
The Consequence for Vulgar Comments
Limbaugh has lost several sponsors for the remark including Quicken Loans, Inc., a company that had originally supported Limbaugh's right to express himself. In a written statement, Quicken Loans reversed its original decision to back Limbaugh:
Due to Rush Limbaugh's continued inflammatory comments--along with the valuable feedback we have received from our clients and team members--Quicken Loans has suspended all advertising on The Rush Limbaugh Radio Program, the company said in a written statement.
In addition to sponsor withdrawals and suspensions, Limbaugh faced harsh criticism from Democratic members of Congress, who encouraged Republican members to do the same.
The Republican Speaker of the House, John Boehner, responded through a spokesperson. The Speaker obviously believes the use of those words was inappropriate, as is trying to raise money off the situation, Boehner aide Michael Steel said.
Limbaugh remained amused by the conversation his harsh words have caused among political leaders: I think this is hilarious. Absolutely hilarious he said on his show. The left has been thrown into an outright conniption fit!
In case you haven't seen exactly what Limbaugh said, his fiery rant has been transcribed on his website. Here's what it says:
What does it say about the college co-ed Sandra Fluke, who goes before a congressional committee and essentially says that she must be paid to have sex, what does that make her? Limbaugh asked his listeners. It makes her a slut, right? It makes her a prostitute. She wants to be paid to have sex. She's having so much sex she can't afford the contraception. She wants you and me and the taxpayers to pay her to have sex. What does that make us? We're the pimps.
Republican presidential candidates were less willing to speak out against Limbaugh's remarks.
He's being absurd, Rick Santorum said during an interview with CNN's Wolf Blitzer. But that's, you know, an entertainer can be absurd.
Similarly, Mitt Romney was careful not to criticize Limbaugh's choice of words too harshly: It's not the language I would have used, Romney reportedly said after a campaign event in Cleveland. But I'm focusing on the issues that I think are significant in the country today and that's why I'm here talking about jobs in Ohio.
Fluke has since issued a statement expressing gratitude to those who have supported her during the controversy.
No woman deserves to be disrespected in this manner. This language is an attack on all women, and has been used throughout history to silence our voices, she said. The millions of American women who have and will continue to speak out in support of women's health care and access to contraception prove that we will not be silenced.
© Copyright IBTimes 2023. All rights reserved.
FOLLOW MORE IBT NEWS ON THE BELOW CHANNELS