Obama Cuba Visit 2016: President Says Cuba Trip A 'Historic Opportunity' For A 'Brighter' Future
President Barack Obama, who arrived in Cuba Sunday for a historic visit, spoke this evening to a group of U.S. Embassy employees during his first stop in Havana.
"Muchas gracias!" he said, thanking the team that since late 2014 has worked to restore ties with Cuba after nearly 60 years of U.S. sanctions. "It is wonderful to be here."
The ceremony was initially planned for the front lawn of the U.S. Embassy, where the American flag was raised last summer in a symbolic gesture to the thawing U.S.-Cuban relations. But a torrential downpour forced Obama and his delegation to move inside to a hotel meeting room, the New York Times reported.
Obama on Sunday became the first sitting U.S. president to visit Cuba since 1928. Former President Calvin Coolidge visited the island nearly nine decades ago, arriving by battleship.
U.S. Ambassador Jeffrey DeLaurentis introduced Obama by reminding staffers that the president had promised "Yes, we can" during his 2008 presidential campaign. With the opening of Cuba, "Yes, we did," DeLaurentis said, NBC News reported.
Obama interrupted to declare, "Yes, we did!" to applause.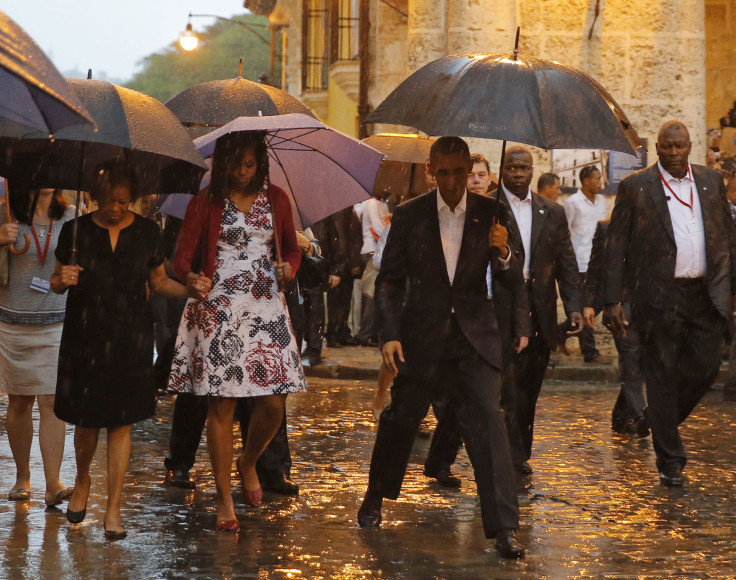 In his remarks, Obama said the three-day visit was "a historic opportunity to engage directly with the Cuban people and to forge new agreements and commercial deals, and build new ties between our two peoples." He said the trip would also allow him "to lay out my vision for a future that's brighter than our past."
Obama thanked the embassy personnel who had brought young children to the ceremony, the Times reported. "By the time they're adults, our hope is that they think it's natural that a U.S. president should be visiting Cuba, and they think it's natural that the two peoples are working together."
He added that having a U.S. Embassy in Cuba "means we can more effectively advance our interests and values and understand the Cuban people and their concerns."
Obama and his wife, Michelle, and daughters Sasha and Malia later took a walking tour in the pouring rain through the historic Old Havana neighborhood, including a stop in the plaza of the 18th-century Catedral de San Cristobal de la Habana and the Museum of the City of Havana, which features a painting of Abraham Lincoln.
Amid the downpour, a few hundred people gathered in the leafy Plaza del Armas and erupted in applause as the first family stepped forward, shouting Obama's name, the Associated Press reported. The buoyant crowd greeted the Obamas with chants of "USA! USA!"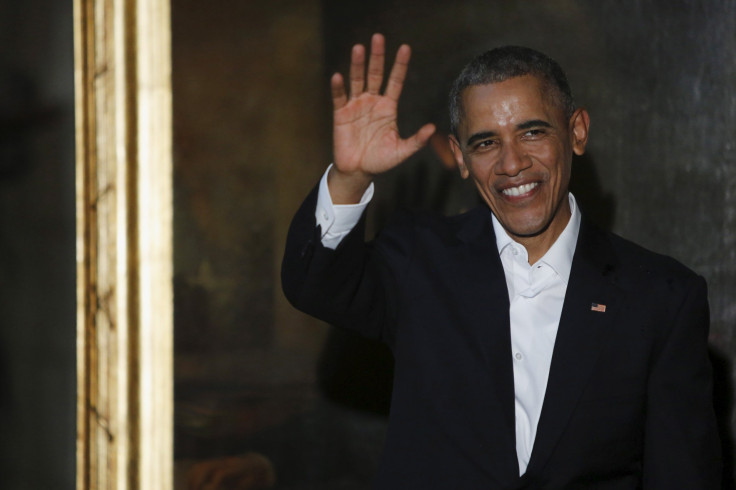 © Copyright IBTimes 2023. All rights reserved.
FOLLOW MORE IBT NEWS ON THE BELOW CHANNELS