Obama Cuba Visit 2016: Air Force One Touches Down In Havana, Kicking Off Historic Visit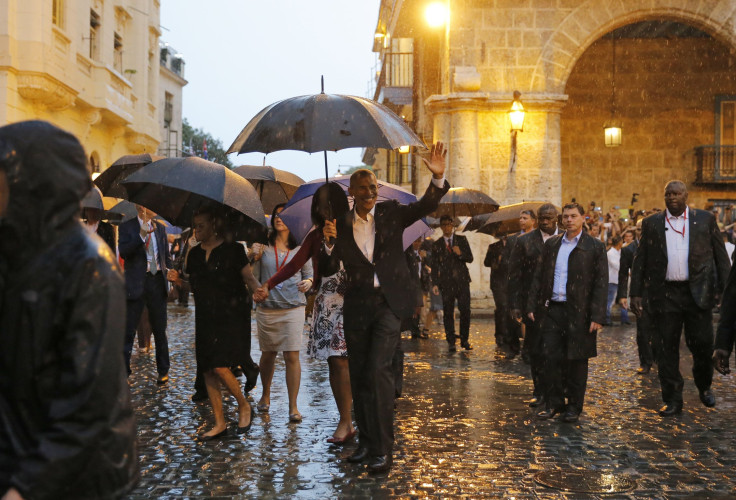 President Barack Obama landed in Cuba Sunday, marking the first visit by a sitting U.S. president in 88 years.
The wheels of Air Force One touched down on José Marti International Airport's single runway around 4:19 om EDT. Obama arrived with his wife Michelle, daughters Sasha and Malia, plus a delegation of dozens of U.S. lawmakers, 11 corporate executives eyeing new business opportunities in Cuba and a group of prominent Cuban-Americans.
"Qué bolá, Cuba?" Obama said on Twitter Sunday, using a casual Cuban greeting for "How's it going?" or "What's up?"
Obama's historic three-day visit is his latest move to normalize ties with the Caribbean nation after nearly 60 years of U.S. sanctions. Last month, the U.S. and Cuba signed a bilateral agreement to authorize up to 110 commercial flights between the two nations to Cuba's capital, Havana, and nine other locations on the island.
The last U.S. commander-in-chief to visit Cuba was President Calvin Coolidge, who arrived by battleship in 1928.
Obama and his family stepped off the plane into a drizzle on the muggy afternoon, with temperatures around 85 degrees Fahrenheit. A host of dignitaries greeted the U.S. delegation, including Cuban Foreign Minister Bruno Rodriguez; the top U.S. diplomat in Cuba, Jeffrey DeLaurentis and his wife Jennifer; and Cuban Ambassador to the U.S. Jose Cabanas, the Associated Press reported.
One prominent leader, however, was not on the tarmac to greet the Obamas: Cuban President Raúl Castro. He frequently greets major world figures upon their arrival at the airport but was a no-show Sunday, the AP said.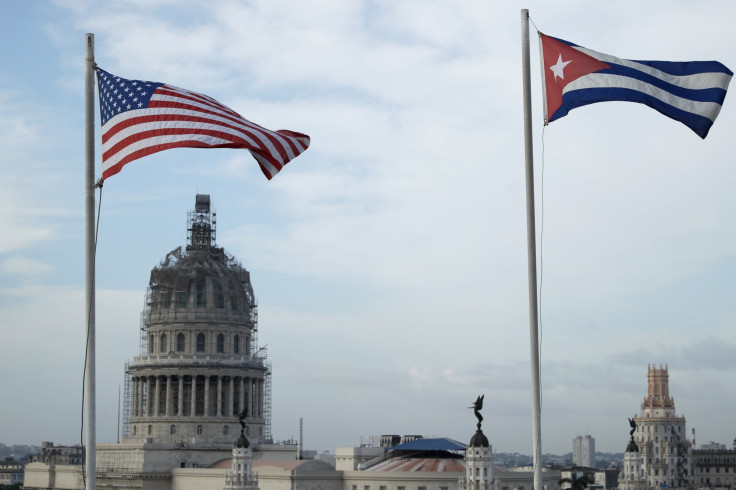 Upon landing, Obama was scheduled to head immediately to the newly reopened U.S. Embassy in Havana, where American diplomats have worked to restore ties since December 2014.
Also Sunday, the first family will take a sightseeing tour in Old Havana, including a stop at the Cathedral de San Cristobal de la Habana, the seat of the Catholic Church in Cuba where Pope Francis celebrated Mass last year. Obama was expected to meet later with Cardinal Jaime Ortega; the White House has said the Church played an "integral role" in helping to thaw U.S.-Cuban relations.
The president will have a full day Monday, starting with a wreath-laying at a memorial for Cuban poet and independence leader José Martí. President Castro will officially welcome Obama at the Palace of the Revolution for a bilateral meeting. Later that day, Obama will participate in an entrepreneurship summit, followed by an evening state dinner. Obama was not expected to meet with ailing longtime Cuban leader Fidel Castro.
On Tuesday, Obama will address the Cuban people from the El Gran Teatro in Havana, followed by a visit with Cuban dissidents and civil society leaders. Before his departure, Obama will watch a baseball game between the Tampa Bay Rays and the Cuban national team. Obama is slated to leave Cuba Tuesday evening and will head directly to Argentina, the White House said.
© Copyright IBTimes 2023. All rights reserved.