Obama Effigy Hung By Noose From Bridge In Latest Instance Of Russians Attacking Likeness Of US President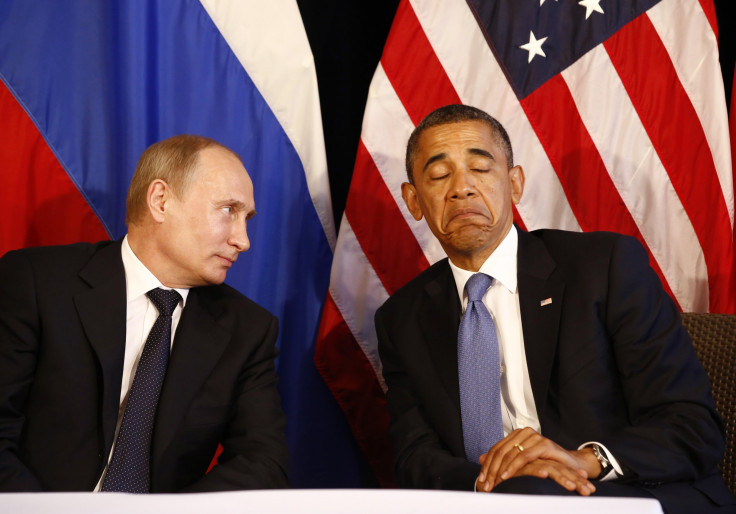 Russians have attacked an effigy of U.S President Barack Obama -- again. A likeness of Obama was discovered hanging from a bridge Monday in the Ural Mountains region of Perm with its head covered by an executioner's hood, the Moscow Times reported. The effigy was wearing a dress shirt and slacks and was seen dangling from a local bridge as cars traveled below it.
"One dead Obama is worth 7,650 living Ukrainians," read a sign attached to the figure's neck. It appeared to refer to the conflict in eastern Ukraine that has claimed the lives of nearly 7,000 people, according to United Nations estimates. The doll was eventually removed and police were investigating the hanging, Interfax news agency reported Monday.
The hanging wasn't the first time Obama's likeness has been attacked by Russians in recent months. In February, an Obama effigy was set on fire in the Kaliningrad region to mark the start of Lent, local news site Klops.ru reported. That incident involved a straw model dressed in a black suit, the Moscow Times reported at the time. A planned burning of another Obama effigy at a Maslenitsa show in the Altai region was canceled after protests.
The conflict between pro-Russian rebels in eastern Ukraine and Kiev has dragged on for more than a year, with Obama and other Western leaders urging Russia to stay out of the fight. The Organization for Security and Cooperation in Europe has said neither side has fully withdrawn heavy artillery from the frontline as required under a ceasefire brokered by world leaders earlier this year, Reuters reported.
Many Russians are not big fans of Obama, though he is generally liked overseas, according to various polls. Only 11 percent of Russians express confidence in the U.S. president, the Pew Research Center found in June.
© Copyright IBTimes 2023. All rights reserved.