Obama Grapples With ISIS Dilemma As Calls Grow For Airstrikes In Syria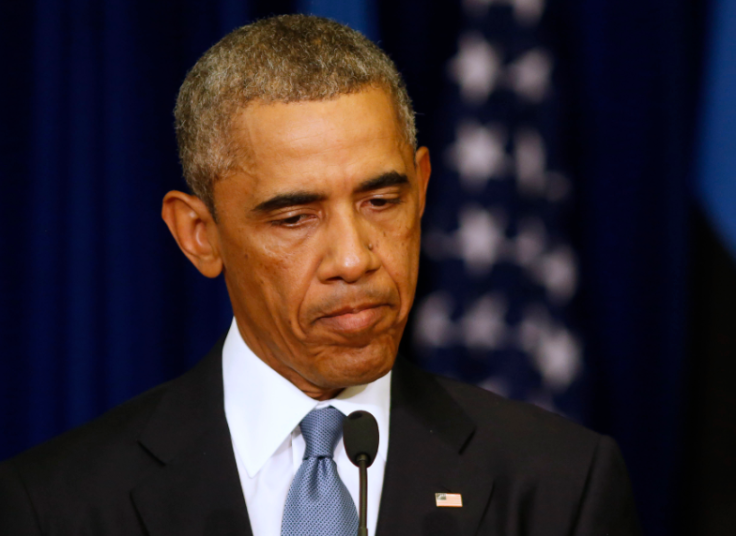 The execution of another American citizen by the Islamic State in the span of about two weeks has put U.S. President Barack Obama in the crosshairs of a political crisis. The president is now faced with an unenviable balancing act -- taking on the Islamic State in Syria while keeping President Bashar Assad at bay.
Amid increasing political pressure to act decisively against Islamic State, which was formerly known as ISIS, Obama had, on Thursday, admitted that the U.S. government "does not have a strategy" to deal with ISIS in Syria. The U.S. has been conducting airstrikes against ISIS in Iraq for weeks now, and pressure has been mounting on Obama to expand the action into neighboring Syria.
"If there are any airstrikes in Syria, that would be another very significant change in American policy," Elliott Abrams, a senior fellow at the Council on Foreign Relations, told CBC News. U.S. airstrikes in Iraq, which are aimed at assisting the Iraqi army and Kurdish peshmerga fighters battling ISIS, are being carried out at the invitation of the Iraqi government. In Syria, however, the U.S. lacks a partner in Assad, who will not give it a free rein to conduct military operations, Abrams added.
In any event, the Obama administration finds itself in a difficult predicament, as barely 12 months ago, it was faced with the prospect of launching airstrikes against Assad's government, which was accused of using chemical weapons against civilians in the country's protracted civil war. At the time, the U.S. Congress had waffled on authorizing airstrikes against Assad.
Obama has so far resisted calls to launch airstrikes on ISIS strongholds in Syria's north, in an effort to avoid getting trapped in "somebody else's civil war." However, the execution of American journalist Steven Sotloff, just over two weeks after James Foley, another U.S. reporter, was killed by the militant group, might force him to adopt a more aggressive policy.
In August last year, U.S. Secretary of State John Kerry had called Assad a "thug and murderer" after evidence emerged of pro-Assad forces using chemical weapons on its citizens. If Obama now decides to launch airstrikes in Syria against ISIS, he might be involuntarily aiding Assad.
On Thursday, U.S. Army General Martin Dempsey -- chairman of the Joint Chiefs of Staff -- said that ISIS militants cannot be stopped unless their Syrian sanctuary is destroyed.
"Can they be defeated without addressing that part of their organization which resides in Syria? The answer is no," he reportedly said, at a Pentagon press conference. "That (sanctuary) will have to be addressed on both sides of what is essentially at this point a nonexistent border."
Shadi Hamid, an expert on Islamist groups at The Brookings Institution, a Washington-based think tank, told McClatchyDC, a news website, that it was "pure fantasy" to assume that the conflict in Iraq can be separated from the Syrian civil war.
"This is what's so worrying about the Obama administration's approach. There is no plan. There is no vision on that front. There is no effort to talk about Syria in a different way."
However, following the latest beheading, Obama might find political compulsions in Washington hard to resist. Members of Congress, including many Democrats, are now demanding that the president present a comprehensive strategy to respond to the ISIS threat.
"We must use every tool at our disposal, short of introducing ground forces in combat roles, to put an end to the threat they pose to our national security," Democratic Senator Jeanne Shaheen said Tuesday, according to a CNN report.
With ISIS now threatening to kill a captive British national, the pressure on Obama to act is only expected to increase, both domestically as well as internationally.
On Wednesday, Obama, speaking at a press conference in Tallinn, Estonia, reportedly said: "It's not only that we're going to be bringing to justice those who perpetrated this terrible crime against (Foley and Sotloff), more broadly the United States will continue to lead a regional and international effort against the kind of barbaric and ultimately empty vision that (ISIS) represents. That's going to take some time but we're going to get it done. I'm confident of it," the Washington Times reported.
© Copyright IBTimes 2023. All rights reserved.
FOLLOW MORE IBT NEWS ON THE BELOW CHANNELS