Obama Greets U.S. Olympians at the White House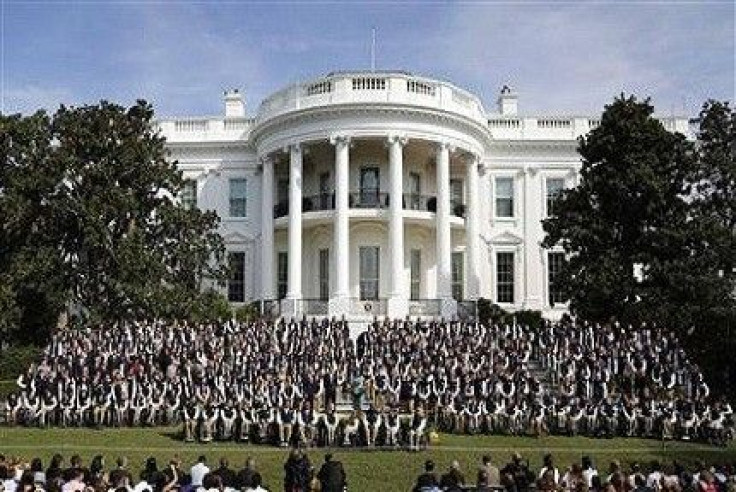 (Reuters) - President Barack Obama welcomed U.S. Olympic and Paralympic athletes to the White House on Friday, congratulating them on their achievements in London while expressing a bit of good-natured envy toward swimming phenom Michael Phelps, track star Tyson Gay and weightlifter Holley Mangold.
Obama, known for playing basketball, taking to the golf course and working out in his spare time, told the athletes gathered on the White House South Lawn that he enjoyed watching the Olympic games on television last month.
"It was a great way to end the day, watching you guys do things that I did not think were humanly possible. That was unbelievable. And then I'd jog on the treadmill," Obama said to laughter.
"But I was inspired to watch you guys even though I couldn't do what you do. I was inspired to run a little bit faster watching Tyson Gay, and lift a little more after watching Holley Mangold, or do a few more (abdominal) crunches after watching Michael Phelps and the other swimmers. Somehow, it didn't work quite on me," Obama added.
Obama dubbed himself "the fan-in-chief," and told the athletes that they could not have been better ambassadors or better representatives of the United States. The U.S. Olympic team finished with 104 medals at the London games, more than any other country.
Hundreds of Olympians attended the White House celebration, adorned in varsity jackets, with first lady Michele Obama and Vice President Joe Biden also taking part.
"I've mastered the DVR so I was able to catch a little bit of everything," Obama told the athletes.
Following remarks from the president and the first lady, Paralympic swimmer Brad Snyder, a Navy veteran, and Olympic fencer Mariel Zagunis - who were U.S. flag bearers at the games - presented the Obamas with flags carried during the opening ceremonies.
Obama did not attend the Olympics, but the first lady led the American delegation to the games in London.
Some prominent Olympians were not in attendance. For example, the U.S. women's "Fab Five" gymnastics team that captured gold in London was on tour and unable to show up.
Swimmer Ryan Lochte was not there. But Phelps, who became the most decorated Olympian in history at the London Games, arrived sporting aviator sunglasses.
(Reporting by Margaret Chadbourn; Editing by Will Dunham)
© Copyright Thomson Reuters 2023. All rights reserved.