Obama Heads To Nike Inc (NKE) Headquarters, Touting TPP To Nation Divided On Trade Deals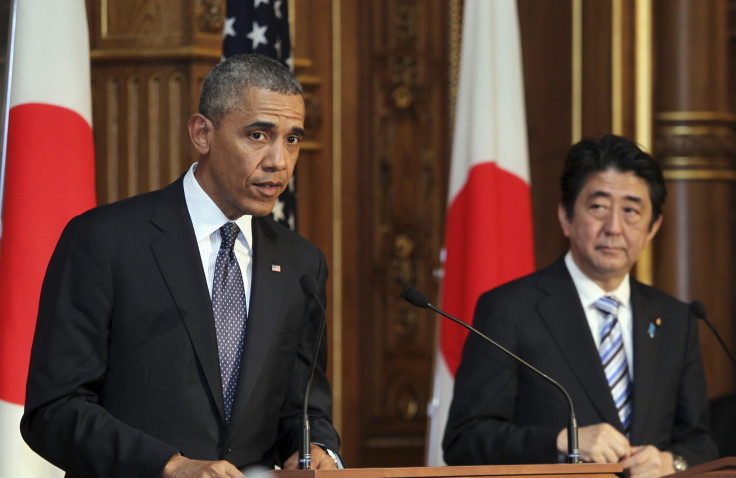 When U.S. President Barack Obama visits Nike Inc.'s world headquarters in Beaverton, Oregon, on Friday, he'll be promoting the benefits of the Trans-Pacific Partnership to an American public that is divided on the pros and cons of free trade agreements. The TPP, he'll say, is a "21st century" deal that will connect a dozen Pacific Rim nations under a unified set of regulatory, investment and trade rules.

To hear the president describe it, the TPP is a win for all 12 Pacific Rim countries involved. Proponents say it will improve labor rights and environmental protections in countries like Vietnam and Malaysia while giving U.S. companies better access to Asian markets, especially Japan, creating 650,000 American jobs over the next decade.
Critics aren't convinced.
"His decision to visit Nike headquarters has got to be either the result of poor staffing, or just an indication he doesn't realize his free-trade policies are misguided," said Kevin Kearns, president of the United States Business and Industry Council, a Washington lobby representing small businesses. "Instead of favoring companies that employ the American middle class, these policies favor companies that outsource and employ tens of thousands of workers overseas."
The U.S. Chamber of Commerce, which represents major multinational business interests, says free trade deals like the TPP are largely beneficial because they promote U.S.-made products overseas. Even so, the deals haven't helped mitigate the country's persistent trade deficit. The U.S. buys more goods from other countries, especially those with free trade deals, than it makes and sends abroad.
Nike and Oregon's big exporters would largely benefit from the TPP. Dave Weiner, retail analyst at Deutsche Bank, said in a research note this week that Nike's gross margins could increase 4 percentage points if TPP member Vietnam, a major source of Nike goods, were able to export to the U.S. without paying import tariffs. Nike earned $2.69 billion on profit on $27.8 billion in revenue last year.
The president travels Thursday to Oregon to attend a Democratic National Committee fundraiser in Portland before heading to nearby Beaverton on Friday "to discuss how workers will benefit from progressive, high-standards trade agreements that would open up new markets and support high-quality jobs both for Oregon small businesses and large companies like Nike," said a White House statement.
Obama is pursuing "fast track" trade promotion authority, which would limit Congress to a quick up-or-down vote on the trade treaty, whose details are currently classified to all but a handful of key lawmakers. Those who have seen the full details of the treaty are prohibited from disclosing anything to the public.
Public Citizen, a Washington D.C.- based non-profit consumer advocacy group, compiled data showing strong bipartisan opposition to current U.S. free trade agreement models. Pew Research polls suggest also that the public is considerably divided on the topic of free trade treaties, especially their effects on job creation growth. Oregon Sen. Ron Wyden, a Democrat, is facing pressure from labor groups to back out of his support for the president's fast-track authority, but he continues to support the bill because he thinks it's good for his state.
"People want to buy our wheat, they want to buy our computers, our wine," Wyden said in an interview with Oregon Live in March. "The Oregon brand is just on fire all over the world, and we ought to be able to get our exports, particularly, into Asia."
Jeff Reimer, associate professor of applied economics at Oregon State University, says U.S. trade deals face less resistance in the Pacific Northwest because the region exports higher-value timber and agricultural products, such as soft winter wheat, which is almost completely an export product.
"Our comparative advantage and exports are somewhat unique, owing to our climate and geographical location," Reimer said by email. "The Pacific Northwest developed much later than most other parts of the United States, and has traditionally been oriented towards natural resource usage, especially timber, marine and agricultural products."
And more recently Oregon has developed a major technology hub known today as Silicon Forest. This cluster of computer and electronic products manufacturers make up the largest share of what Oregon makes and sends overseas.
"Our computer and electronics sector has thrived on the back on international trade, and so too has the athletic apparel sector," says Tim Duy, senior director of the Oregon Economic Forum at the University of Oregon. "Nike employs almost 9,000 FTEs [full time employees] at its world headquarters, revealing that Oregon can benefit by exporting the knowledge-product of the industry -- the design and innovation -- even while importing much of the final product."
Last year, $8.16 billion worth of tech products were exported from the state, worth as much as the agricultural products, machinery, transportation equipment and chemicals combined. Oregon exported $20.9 billion worth of goods to world markets last year, according to the U.S. Department of Commerce's International Trade Administration.
China, which is not a party to the TPP, was Oregon's largest export market last year, making up $4.27 billion, or 20 percent, of the state's global exports. Canada, Malaysia, Japan and South Korea are the state's other primary export markets. Japan and Malaysia are two of the 12 TPP member states, which means Oregon exporters stand to benefit from a deal that would lower barriers, especially to Japan.
But critics of free trade agreements point out that the net gain in U.S. jobs over the years doesn't reflect the promises made by proponents of past free trade agreements. The country's mounting trade deficit is a significant indicator that manufacturing jobs are leaving the country. Meanwhile, many local companies are competing with imported goods often made (or harvested) under poor or even deplorable working conditions that allow many exporters to the U.S. to undercut prices of locally made goods.
"Millions of manufacturing jobs are gone, and there's no evidence free trade agreements create an increase in jobs on net," said Kearns. "Exports obviously create jobs, and imports displace jobs. Exports can create jobs in one part of the country, but imports can cost jobs in another part of the country. 'Net' is the key word here."
© Copyright IBTimes 2023. All rights reserved.