Obama Immigration Executive Action Update: 84 Cities And Counties Back Administration's Supreme Court Appeal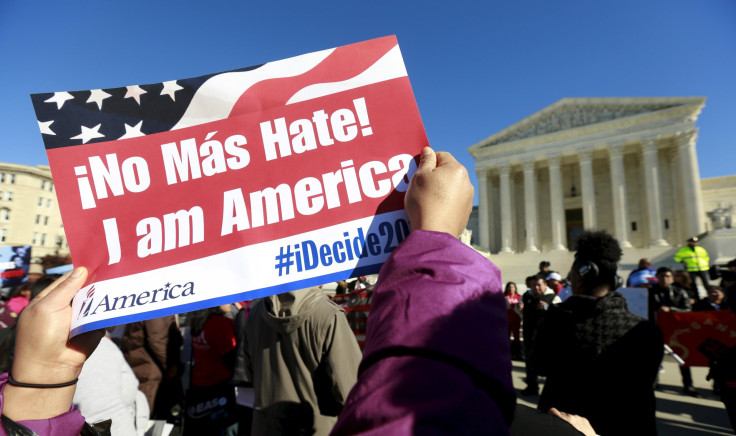 A group of 84 cities and counties announced Friday the filing of a friend-of-the-court brief with the United States Supreme Court, urging the body to review a lawsuit that has stalled President Barack Obama's executive actions on immigration. This show of support comes after the high court granted a request from the federal government this week that effectively ensures it will decide whether to take up the case by mid-January.
The amicus brief will be filed by Cities United for Immigration Action, a coalition of mayors founded by New York City Mayor Bill de Blasio that has been pushing to help enact Obama's executive actions on immigration. The list of 84 cities includes some of the country's largest cities and counties, including New York City, Los Angeles, Atlanta and Chicago.
"We are urging the Supreme Court to review this case so implementation of the president's executive actions can finally move forward, because the wheels of justice have been stuck in neutral for thousands of families for far too long," de Blasio said in a statement from the coalition. "Cities are where immigrants live, and it is our residents, communities and economies that will reap the benefits from these policies. Cities are united, and we will fight for immigration reform in the courtroom, in Congress, and in our communities. As this legal challenge continues, our voices will be heard."
Obama's executive orders would grant work authorization to more than 4 million immigrants who are in the U.S. illegally but whose children are U.S. citizens or green card holders. However, the policy has been on hold since a federal judge issued an injunction in February in a lawsuit filed by Texas and 25 other states challenging the constitutionality of the plan.
The 26 states argued the immigration actions would cause them harm and overstepped executive authority. Just last month, the 5th U.S. Circuit Court of Appeals upheld the lower court's decision in a blow to Obama's administration.
Since then, the federal government appealed the case to the Supreme Court, and that court ordered Texas -- the lead plaintiff in the suit -- to respond to the administration's appeal by Dec. 29, Huffington Post reported.
Unauthorized Immigrant Population by State | InsideGov
The brief filed by Cities United for Immigration Action argues the delay in implementing the president's actions has forced at least 9 million people "to continue to live in ongoing fear of deportation and separation, a situation that has profound emotional, educational and health impacts on children."
A statement from the coalition said each day of the delay costs New York City about $100,000 in funds through increased tax revenue in New York State, and thatHarris County, Texas, could collect more than $400 million in additional taxes resulting from wage growth among immigrants who would qualify for the executive action.
The brief from Cities United for Immigration Action comes on the heels of a brief filed by more than 200 Democrats supporting a Supreme Court review of the administration's case. House Minority Leader Nancy Pelosi, Senate Minority Leader Harry Reid and other lawmakers filed an amicus brief Thursday evening, Politico reported.
"We are confident that the Supreme Court will support President Obama's decision to use the authority granted by Congress to set enforcement priorities and focus our limited resources on threats to national security and public safety, not hard-working families," Pelosi and Reid said in a joint statement released Friday.
© Copyright IBTimes 2023. All rights reserved.