Obama In Israel 2013: Live Blog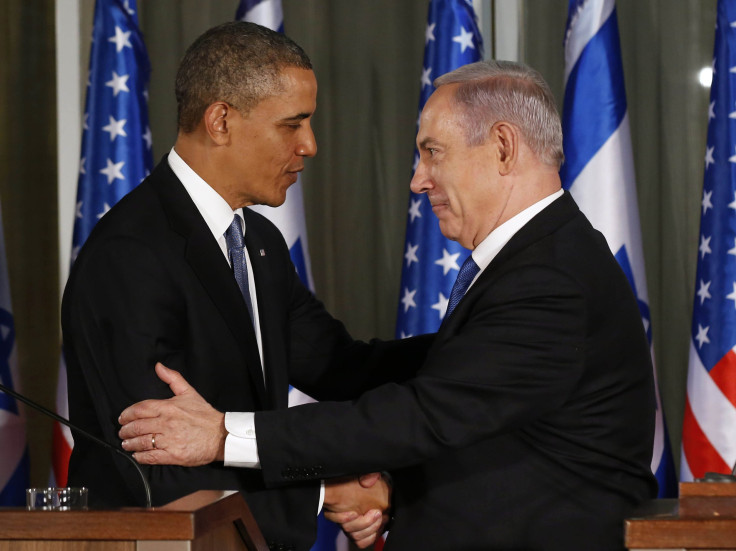 [3:45 p.m. EDT]: President Obama was greeted at the airport by a gaggle of young kids singing a mashup of songs from the musical "Annie."
[3:35 p.m. EDT]: Netanyahu's official twitter feed posted this picture of the official dinner on Instagram. Secretary of State John Kerry and Obama are clearly visible on the left, across from Netanyahu.
[3:30 p.m. EDT]: #ObamaLimoNames now in the top ten trending topics on Twitter in the U.S.
[3:15 p.m. EDT] After a fair amount of joshing around and jokes about where their respective children got their good looks (from their mothers, obviously), Obama and Netanyahu spent most of their press conference speaking about Iran's developing nuclear capabilities and the unacceptability thereof. On the peace process, Obama said, "The Palestinians need to feel that they too are masters of their own fate," but added that he would speak more on the peace process in his addresses tomorrow. He also reiterated the U.S.'s commitment to Israel's security. On Syria, Obama said he was "deeply skeptical" about accusations that a recent chemical weapons attack had come from the opposition, and both leaders reiterated that such a provocation would not go unchecked by the West.
[2:32 p.m. EDT] Obama-Netanyahu press conference has begun.
[2:30 p.m. EDT] YNet News in Israel is reporting that the Agriculture Ministry has ordered Obama's magnolia tree, which he planted with President Peres earlier today, dug up. Apparently the tree, which was brought in from the U.S., Times of Israel said, wasn't properly checked.
[2:20 p.m. EDT] Private meeting between Obama and Netanyahu has concluded, press conference to begin in about 10 minutes.
[2 p.m. EDT] Bloomberg reports the reason the presidential chariot broke down earlier was that its gas tank was filled with diesel, rather than regular gasoline. This is possibly due to the fact that Americans are unaccustomed to diesel engines, and the limo is an American Cadillac flown in especially for the president. Only about 3 percent of cars sold in the U.S. are diesel cars, according to the National Biodiesel Board. In Europe, that number is 50 percent.
[1:45 p.m. EDT] Obama's signature in Netanyahu's guest book:
https://twitter.com/IsraeliPM/status/314429262696443904/photo/1
© Copyright IBTimes 2023. All rights reserved.