Obama Pledges More Than $450M In Aid To Help Colombia Peace Plan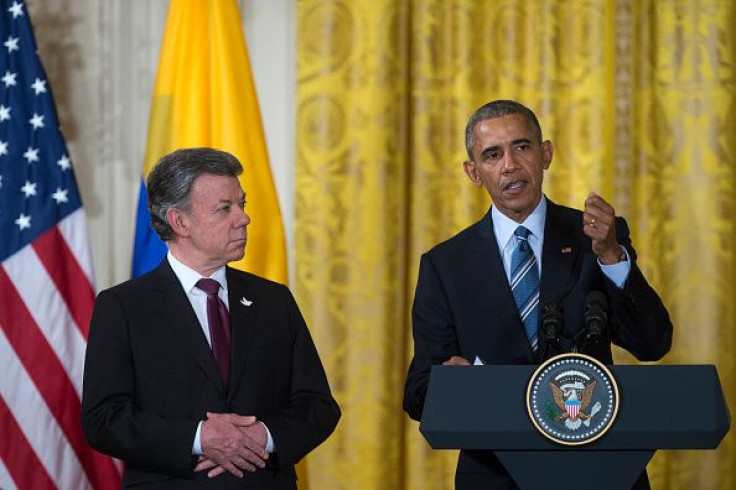 President Barack Obama said on Thursday he would ask the U.S. Congress for more than $450 million in aid to help Colombia end "half a century of wrenching conflict" and implement a peace accord aimed at ending Latin America's longest war.
If approved, the aid would help with security and fighting the drug trade, as well as educating and retraining members of the Revolutionary Armed Forces of Colombia, or FARC, the leftist rebel group at war with the government since 1964.
"After half a century of wrenching conflict, the time has come for peace," Obama said after meeting with Colombian President Juan Manual Santos.
The U.S. government would also commit $33 million to a global program to help the country remove land mines in the next five years, and Obama said he would help mobilize more international aid if the peace deal is reached.
Three previous attempts at an accord failed, but the government and FARC are on the verge of an agreement after four years of talks.
Santos thanked the U.S. government for its long-standing bipartisan support for "Plan Colombia," $10 billion in funding between 2000 and 2015 for military and social programs that he said helped keep Colombia from becoming a failed state.
The new program, dubbed "Peace Colombia," would provide about 25 percent more U.S. funding compared with 2016 levels.
"Just as the United States has been Colombia's partner in a time of war, I indicated to President Santos we will be your partner in waging peace," Obama said at a White House reception.
A jump in U.S. aid is "fundamental" to the success of the peace plan, particularly given a 20 percent hit to Colombia's budget from the plunge in oil prices, said Douglass Cassel of the University of Notre Dame, who has been an adviser to Santos for the past year.
"The government of Colombia will do everything it can, but it's clear that it doesn't have sufficient resources on its own to do the job the way it ought to be done without significant support from the United States and the European Union," Cassel said in an interview.
(Reporting by Roberta Rampton; Editing by David Gregorio and Peter Cooney)
© Copyright Thomson Reuters 2023. All rights reserved.