Obama Refocuses Campaign On Economic Policy, 'The Defining Issue Of Our Time'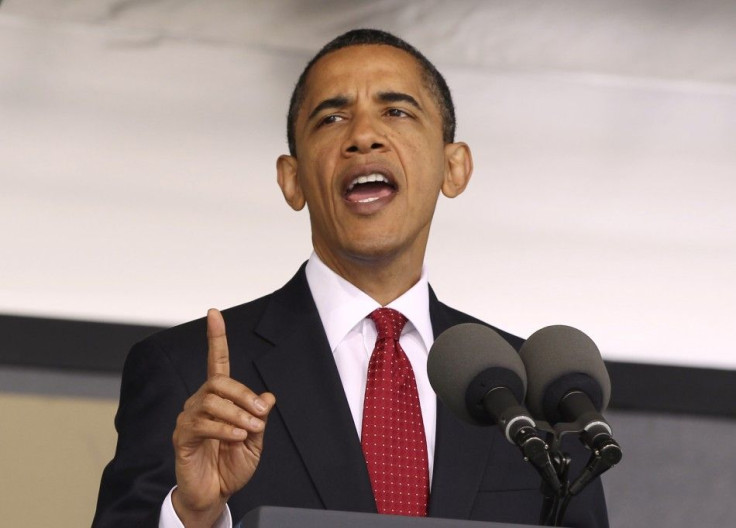 Weeks after social issues dominated Democratic talking points in the 2012 campaign, President Barack Obama refocused his message on his and his Republican opponent's approaches to the economy in an Ohio speech on Thursday.
Obama didn't announce any new economic policy at Cuyahoga Community College in Cleveland. Rather, the speech allowed him to rebut a dueling address Mitt Romney made just minutes before in the same key battleground state and also shifted the tone of his campaign from a briefing in the White House last week that was overshadowed by a gaffe and Republican backlash.
Over the next five months, this election will take many twists and turns. Polls will go up and polls will go down. There will be no shortage of gaffes and controversies. I recently made my own contribution, Obama said while drawing some laughs, referring to when he said the private sector is doing fine, a statement he later backed off and said was misunderstood.
Obama added that he and his Republican opponent agree on one thing: The economy is at the center stage of what's at stake in November. This isn't another trivial issue ... this is the defining issue of our time. This is a make-or-break moment for America's middle class.
On one hand are Democrats, Obama said, who believe the economy should be built from the middle class. On the other hand are Romney and his allies, who believe in a top-down strategy of minimal taxes and little government regulation that he argued has historically failed America.
Romney and Republicans have long accused the president of evading the high unemployment rate and poor economic climate with talk of other issues. (Prime example: when he called law student Sandra Fluke after she was not allowed called testify before a congressional panel about birth control). This month's dismal jobs report, and Obama's doing fine comment, provided fodder for attacks that a president with little business experience doesn't know how to fix the economy.
You called that 'Forward'? Romney asked in Cincinnati Thursday in a speech that caused Obama to delay his own address by 10 minutes. That's forward over a cliff, that's forward on the way to Greece.
Obama's strategy, Romney argued, Leads to chronic unemployment like Europe has, low wage growth like Europe has, fiscal calamity.
Even Democrats admitted that the economy was Obama's biggest campaign weakness. Democratic strategist James Carville said Wednesday that the president risks his re-election chances by focusing too much on his own first-term record. I'm worried that when the White House or the campaign talks about the progress that's being made, people take that as a signal that they think that things are fine, and people don't feel they ought to believe that, he said on ABC's Good Morning America.
Obama seemingly ignored Carville, claiming his administration created 4 million jobs over the last 27 months, including more private-sector jobs than were created during the seven years before the 2008 crash. He said taxes have been lower than in decades, but Republicans still refuse to compromise on raising the bar for the wealthiest Americans.
He also attacked Republican accusations head-on, assuring that his administration does not believe we should be in the business of helping those who refuse to help themselves.
Obama mocked the scary voice in the ads Republicans would deploy in negative attacks and offered the American people a stark choice: If you want to revert to the economic policies that put the country in its current mess, vote for Mitt Romney.
The debate in this election isn't about whether we need to grow faster, or if we create more jobs or if we have to pay down our debt, Obama said, his slogan Forward in big white letters on his podium. The debate in this election is how we grow faster, how we create more jobs, or how we pay down our debt.
As in past speeches, Obama blamed Congress for an unproductive stalemate in Washington about two fundamentally different views.
Romney, in his own Ohio speech, said the president is long on words and short on action when it comes to fixing the economy. He criticized Obama for throwing money at unnecessary programs.
Post-speech, Republicans are likely to continue to assail Obama and Democrats for breaking promises. In the hours leading up to Thursday's speech, Republicans recalled a speech made by current Obama surrogate and former President Bill Clinton on the same Cleveland college stage.
The Democrats are saying something like this: 'We found a big hole that we did not dig. We didn't get it filled in 21 months, but at least we quit digging, Clinton said in September 2010. 'Give us two more years. If it doesn't work, vote us out.'
They Said It! the Republican National Committee wrote in a press release, noting that unemployment still hovers above 8 percent and job growth continues to be too weak.
FOR FREE to continue reading
✔️ Unlock the full content of International Business Times UK for free
offer available for a limited time only
✔️ Easily manage your Newsletters subscriptions and save your favourite articles
✔️ No payment method required
Already have an account?
Log in
© Copyright IBTimes 2023. All rights reserved.